Norman Rockwell Museum Presents Drop-In Drawing Activities for April School Vacation Week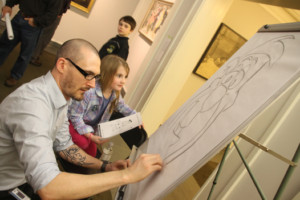 Photo of Norman Rockwell Museum educator/illustrator Pat O'Donnell teaching students during a drop-in art workshop.
Stockbridge, MA, March 21, 2017—Norman Rockwell Museum will celebrate April school vacation week with Draw! Draw! Draw!, a series of drop-in drawing activities and demonstrations to be held Monday through Friday, April 17 through 21, from 1 to 4 p.m. Museum educator/illustrator Patrick O'Donnell will lead daily activities inspired by the art of Norman Rockwell. Themes include: Drawing Animals (Monday); The Expressive Face (Tuesday); Line and Contour Drawing (Wednesday); Light, Shadow, and Form (Thursday); and Fun with Simple Objects (Friday). Supported by Price Chopper/Market 32, the daily events are free for Museum members, or included with regular Museum admission.