Norman Rockwell Museum Receives Donation from Chubb Following Return of a Stolen Rockwell Painting
Manager of Media Services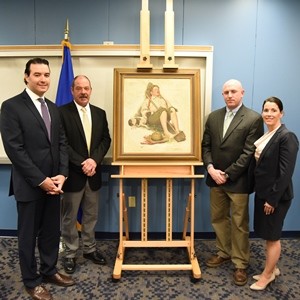 Left to right: Rob Poliseno, Regional Executive Officer, Mid-Atlantic Region, Chubb;
Mr. John Grant; Martin Mahoney, Director of Curatorial Operations, Norman Rockwell Museum; and Kelly O'Leary, Regional Chief Operating Officer. Photo credit: FBI.
Norman Rockwell Museum Receives Donation from Chubb Following Return of a Stolen Rockwell Painting
Stockbridge, MA, April 20, 2017— Norman Rockwell Museum received a contribution earlier this month from an unexpected source: Chubb Insurance presented the Museum with a $15,000 check that was the returned claims payment resulting from the discovery and return of a stolen Norman Rockwell painting. Chubb is the world's largest publicly traded property and casualty insurance company with operations in 54 countries.
The painting, Boy Asleep with Hoe, had been stolen from a family home in Cherry Hill, New Jersey in 1976. It was one of Rockwell's earliest Saturday Evening Post cover paintings, completed in 1919. At the time of the theft, the family submitted a claim to Chubb, and following a claim payment, Chubb acquired the painting's title.
The theft remained unsolved for four decades. But with renewed efforts by the family and the FBI Art Crime Division in Philadelphia, the painting was finally found.
During their search, the FBI had contacted Norman Rockwell Museum, and Museum curators provided key background and other information about the painting to assist FBI agents in their recovery efforts.
The family returned their claims payment to Chubb in exchange for the Rockwell painting. And in an emotional and dramatic press conference on Friday, March 31, in Philadelphia, the FBI and Chubb presented the stolen painting to its rightful owners. The Museum's Director of Curatorial Operations attended the event and congratulated the family, the FBI, and Chubb.
"We are deeply appreciative of this wonderful gesture by Chubb to donate the claims payment to our Museum," notes Norman Rockwell Museum Director/CEO Laurie Norton Moffatt. "We also are grateful to the FBI for their steadfast efforts to find the painting, and are delighted that they reached out to us for help."
"We are pleased to donate the entire claim repayment amount to the Norman Rockwell Museum," said Fran O'Brien, Senior Vice President, Chubb Group, Division President, North America Personal Risk Services. "As a company that is deeply committed to and an enthusiastic supporter of the arts, we believe that our donation will help the Museum continue in its mission of education and art appreciation."
The original tearsheet for the September 6, 1919 Saturday Evening Post cover featuring Rockwell's Boy Asleep with Hoe illustration is currently on view in the Norman Rockwell Museum's exhibition, Norman Rockwell's 323 "Saturday Evening Post" Covers.