LEARNING FROM THE MASTERS: THE FAMOUS ARTISTS SCHOOL
July 8 through November 19, 2017

Learning from the Masters: The Famous Artists School offers a lively, inspirational exploration of the creative methods of America's most highly regarded illustrators, whose influential artworks reached millions on the covers and pages of the nation's most popular publications. The engaging lessons, sage advice, and creative approaches featured in this exhibition reflect those of the Famous Artists School founders—twelve exceptional visual communicators who achieved legendary status in their time.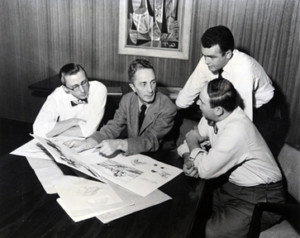 Wishing to ensure that aspiring illustrators would inherit the traditions, skills, and professionalism that they had gleaned through years of experience, the founding illustrators, led by Al Dorne, launched this popular distance learning course in 1948. Based in Westport, Connecticut—which had been an artist's colony since the 1920s—the Famous Artists School became America's most popular art correspondence school during the Post-War era, serving as many as 60,000 students at the time. Its in-depth volumes gave practical how-to instruction in the unique working methods of John Atherton, Austin Briggs, Stevan Dohanos, Robert Fawcett, Peter Helck, Fred Ludekens, Al Parker, Norman Rockwell, Harold von Schmidt, Ben Stahl, and Jon Whitcomb. Though Dorne's personal volume was never issued, his commentary appeared later, when selected lessons were compiled in four-volume sets focusing on narrative picturemaking, from idea to finished illustration. Through the years, the course was updated with new lessons and famous artists, and even sold door-to-door. Advertisements designed to attract students were featured prominently in magazines and comic books, often featuring a likeness of Norman Rockwell with the tag line: "We're looking for people who love to draw…"
Norman Rockwell Museum is the fortunate beneficiary of a substantial collection of original art and archival materials from the school's most recent owners, Magdalen and Robert Livesey. In the process of being digitized and shared online for study and enjoyment, the collection reveals both the creative approaches of these artists and the ways in which art was viewed as a viable path to a fulfilling and successful life—literally, "A Richer Life Through Art."
A special event this summer will celebrate the publication of Drawing Lessons from the Famous Artists School: Classic Techniques and Expert Tips from the Golden Age of Illustration, published by Quarry/Quarto Books. Co-authored by Stephanie Haboush Plunkett, Deputy Director/Chief Curator, Norman Rockwell Museum, and Magdalen Livesey.
ABOUT THE ARTISTS
Original illustrations and studies by Norman Rockwell, Harold von Schmidt, John Atherton, Al Parker, Al Dorne, Fred Ludekens, Ben Stahl, Peter Helck, Stevan Dohanos, Jon Whitcomb, Austin Briggs, and Robert Fawcett will be on view.