Laurie Norton Moffatt
Office of the Director
Remembering Marge Blair and Steve Gershoff, devoted members of Norman Rockwell Museum.
The special connection our staff make with our visitors, and the personal association many of them had with Norman Rockwell as his neighbors, friends, or models,  are what makes Norman Rockwell Museum so special. Over and over again, we hear how visitors love the stories associated with Norman Rockwell's images, and the anecdotes our docents share in the galleries.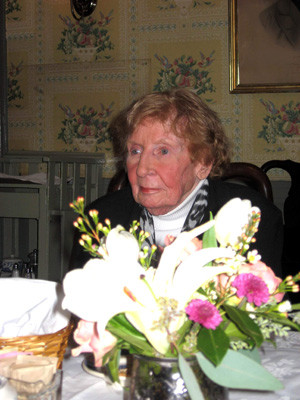 That is why this start of the New Year feels like the end of an era, as we mourn the passing on December 31, 2016 of two longtime dedicated members of our team, Marge Blair and Steve Gershoff. Each began their 22-year tenures with the Museum in 1994, the year following the opening of our new Museum building on our expanded campus. Marge initially joined the Museum in 1974, in the earliest days of its founding at the Old Corner House, then took a hiatus, returning after the Museum reopened. She brought pleasure to visitors for four decades.
With Marge's passing, we lose one of our "museum family" who knew Norman Rockwell personally. Marge was fond of sharing how her son, Kirk, modeled for Norman Rockwell; in her home she proudly displayed framed sketches and photographs revealing her close family ties with the artist. Tea with Marge was a delight, as she would point to the pictures and talk about her times in the artist's studio. She was a favorite docent for special groups and events because of her marvelous ability to tell a story with visitors hanging on her every word.
Marge was interviewed often by the press, including USA Today:  "People feel like they know him because of the Saturday Evening Post covers. It's like coming to see a friend," says Museum guide Marge Blair of Stockbridge, who did know Rockwell and his wife, Molly. She says Rockwell used her son as a model for Huckleberry Finn. "This isn't your typical art museum," Blair says. "You always hear people laughing and reminiscing."
One thing you might not know about Marge, who was hired by the Museum's former Assistant Director, Margaret Batty, is that for many summers, her fields supplied the flowers for the Old Corner House. Margaret would drive to Marge's home in her little Ford Escort and stride into the fields with her pruners and cut big arms-full of wildflower bouquets to put on the Old Corner House landing. One beautiful sunny summer morning I was fortunate to join her and remember this moment vividly.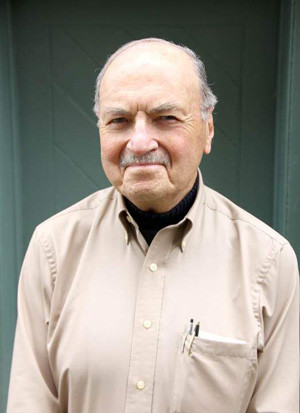 Just as Marge could spin a tale, Steve Gershoff was a master raconteur with tremendous oratory skills. His stentorian voice and Shakespearean tone held his visitors spellbound. His presence in the galleries was unmatched. He truly loved regaling visitors with Mr. Rockwell's stories, and they loved listening.
During my visits to Norman Rockwell's studio, he captivated visitors with insights into how "Mr. Rockwell spent his day." By the time he finished, I think visitors almost felt they were in the presence of the artist. His respect for Norman Rockwell was immense, and it was his great personal pride to bring him to life for our visitors.
Mary Melius, manager of traveling exhibitions, recalls, "When I would ask Steve how he was on a particular day, his response many times was "adequate to the need." I will miss their presence and Marge's one note laugh. The halls of the museum are full of memories. I remember Marge and her husband preparing for their annual trip to Scotland and London for Christmas. In later years, she talked about her niece's twins and would bring in pictures or the twins themselves when they visited her."
We thank Marge, Steve, and his wife Sheila who welcomes visitors in visitor services, and to whom we extend our sympathy, for their many years working together at the Museum. Our staff and visitors hold many special remembrances of these vivid and devoted individuals. They will be dearly missed.
Kindly,
Laurie
Laurie Norton Moffatt
Director/CEO