Norman Rockwell's Home for the Holidays
An exhibition organized by Norman Rockwell Museum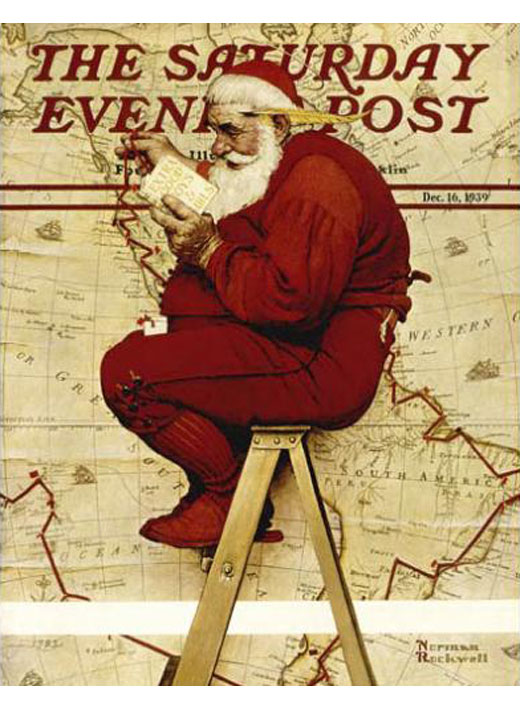 About the Exhibition
. . .children want to believe in Santa Claus just as fervently as we adults want to believe in Peace on Earth and goodwill toward men. —Norman Rockwell
Many of Rockwell's depictions of the holidays are inspired by the work of Charles Dickens, which he read as a child with his family. In addition to Christmas covers for The Saturday Evening Post and other periodicals of the day, family gatherings were forever frozen in time in the artist's many advertisements and Hallmark greeting cards. Norman Rockwell's Spirit of the Holidays shows how the artist's paintings and drawings inspired feelings of warmth and good cheer for generations to come.
Image Left: Extra Good Boys and Girls (Santa on Ladder with Map) ©1939 SEPS: Licensed by Curtis Publishing, Indianapolis, IN Norman Rockwell Museum Digital Collections.
Christmas Trio, Norman Rockwell. 1923 Cover illustration for The Saturday Evening Post, December 8, 1923 From the permanent collection of Norman Rockwell Museum Art Collection Trust ©1923 SEPS: Licensed by Curtis Publishing, Indianapolis, IN
Complete Facts
Contents:
40 framed tearsheets, H: 141/2″ x W: 111/2″ x D: 11/4″, introductory, biographical and photo panels included
Security:
Moderate, security hardware required
Environment:
Light level-10-foot candles, humidity-50% plus or minus 5%, no direct sunlight, heated/air conditioned facility
Speaker:
available upon request
Venues Hosting This Exhibition
Dates forthcoming, stay tuned!