Norman Rockwell Museum Presents  31st Annual Berkshire County High School Art Show
The Annual Berkshire County High School Art Show returns for its 31st year at Norman Rockwell Museum with a special exhibition opening to be held on Saturday, February 4, from 2 to 4 p.m. Celebrate the creative talent on display from Berkshire County high schools, and meet the artists; original works in all media—from painting and drawing to photography, ceramics, three-dimensional assemblage, and digital art—will be on view. Participating schools include: BART Charter School, Berkshire School, Berkshire Waldorf School, Drury High School, Lee High School, Lenox Memorial High School, Miss Hall's School, Monument Mountain Regional High School, Mount Everett Regional High School, and Wahconah Regional High School.
At 2 p.m., Francis Vallejo, an award-winning illustrator from Detroit, will offer insight and encouragement to future art professionals. On view at the Museum through March 4, 2017, the exhibition is generously sponsored by Berkshire Bank, with support for student memberships also provided by Alarms of Berkshire County and members of the Museum's Board and National Council. Admission to the High School Art Show and opening is free (does not include regular Museum admission).
Francis Vallejo is an award-winning, Detroit based, American artist whose works have been exhibited in major national publications, art galleries, and museums. Vallejo earned his Bachelor's degree from Ringling College of Art + Design in Sarasota, Florida, and has since created artwork for a host of notable clients including Candlewick Press, Snapple, VIBE, and Camelbak. He has shown in The Anchorage Museum, The Society of Illustrator's Museum of American Illustration, Gallery Nucleus, and Pixar studios. Vallejo recently debuted "Jazz Day," written by Roxane Orgill and published by Candlewick Press, winning the 2016 Boston Globe Horn Book award for best Picture Book. He is an Assistant Professor of Illustration at the College for Creative Studies. Vallejo's work can be characterized by traditional media experimentation with a heavy foot in classical picture making and draftsmanship. Learn more: www.francisvallejo.com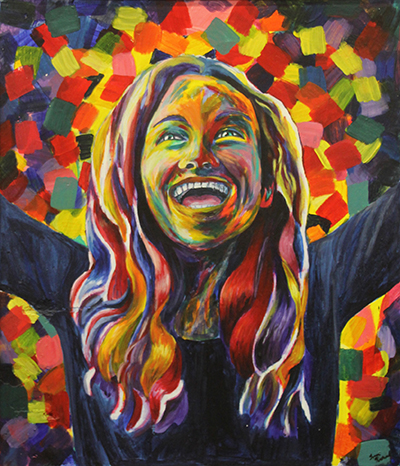 Lyssa Richard, Pure Joy, 2017. Acrylic on canvas, 4" x 4". Monument Mountain Regional High School, age 17. ©Lyssa Richard. All rights reserved.