Gregory Manchess: Above the Timberline
November 10, 2018 through February 24, 2019

Working in the tradition of Frank E. Schoonover and the Golden Age masters, renowned illustrator Gregory Manchess has created a lavishly painted novel about the son of a famed polar explorer searching for his stranded father, and a lost city buried under snow in an alternate future. In Above the Timberline, when it started to snow, it didn't stop for 1,500 years. The Pole Shift that ancient climatologists talked about finally came, the topography was ripped apart and the weather of the world was changed—forever. Now the Earth is covered in snow, and to unknown depths in some places. In this world, Wes Singleton leaves the academy in search of his father, the famed explorer Galen Singleton, who was searching for a lost city until Galen's expedition was cut short after being sabotaged. But Wes believes his father is still alive somewhere above the timberline. Original artworks from the book will be on view.
This exhibit is made possible in part by generous support from Max and Victoria Dreyfus Foundation.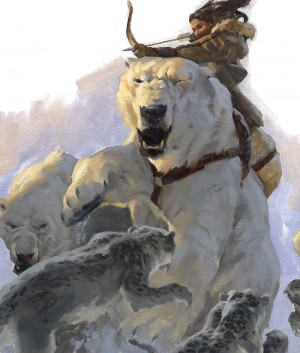 © Gregory Manchess All Rights Reserved
The award-winning painter Gregory Manchess has worked as a freelance illustrator for nearly forty years on advertising campaigns, magazines, and book covers.
His work has appeared on covers and for feature stories of National Geographic Magazine, Time, Atlantic Monthly, and The Smithsonian. Manchess' excellent figure work has led to numerous commissions for stamps by the US Postal Service, including the Mark Twain stamp and the recently released "March On Washington" stamp.
With Manchess' passion for history, the National Geographic Society sent him on expedition to record the exploits of explorer David Thomson, and chose his work to illustrate the adventures of the first discovery of an actual pirate ship for the traveling exhibition, Real Pirates: The Untold Story of The Whydah, from Slave Ship to Pirate Ship.
Widely awarded within the industry, Manchess exhibits frequently at the Society of Illustrators in New York. His peers at the Society presented him with their highest honor, the coveted Hamilton King Award.
Manchess is included in Walt Reed's latest edition of "The Illustrator in America, 1860-2000." He lectures frequently at universities and colleges nationwide and gives workshops in painting at the Norman Rockwell Museum in Stockbridge, MA, and the Illustration Master Class in Amherst, MA.
Manchess' novel, Above the Timberline, was released by Simon & Schuster / Saga Press October 24, 2017. The book is written by Manchess and fully illustrated with 124 oil paintings across 240 pages.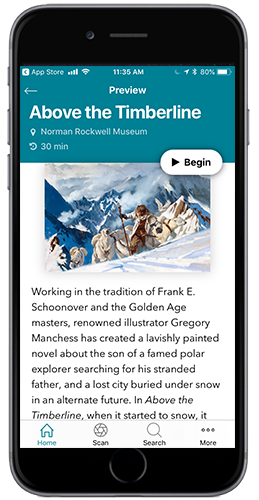 Access this exhibition on the Museum's Mobile App
Download it free from the App Store today!