CULTURAL TRADITIONS: A HOLIDAY CELEBRATION
November 17, 2018 through February 24, 2019
Cultural Traditions: A Holiday Celebration explores the commonality and distinctiveness of peoples and their traditions around the world through the art and stories in children's picture books. Hanukkah, Christmas, Kwanzaa, and the Chinese New Year are celebrated in over 40 original works created by six award-winning children's book illustrators, highlighting our shared hopes and dreams for our communities and families.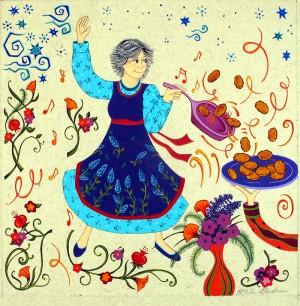 Karla Gudeon
Grandma fries the latkes brown 2008
Illustration for Hanukkah Haiku by Harriet Ziefert [Maplewood, NJ: Blue Apple Books, 2008.] Watercolor on paper
R. Michelson Galleries
©2008 by Karla Gudeon. All rights reserved.
ABOUT THE ARTISTS
Holiday books featured in the exhibition include: Dusk by Uri Shulevitz; Harriet Ziefert's Hanukkah Haiku, illustrated by Karla Gudeon; Clement Clarke Moore's The Night Before Christmas, illustrated by Gennady Spirin; The Night of Las Posadas by Tomi dePaola; Andrea Davis Pinkney's Seven Candles for Kwanzaa, illustrated by David Pinkney; and Bringing in the New Year by Grace Lin.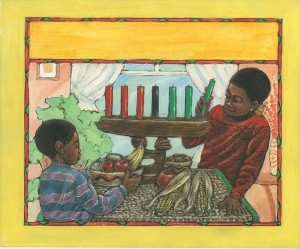 Brian Pinkney (American, b. 1961)
Seven candles are proudly placed in our "kinara", a wooden candle holder., c. 1993.
Cover illustration for Seven Candles for Kwanzaa by Andrea Davis Pinkney, 1993.
Ink and oil pastels on scratchboard.
Collection of the artist.
©1993 by Brian Pinkney. All rights reserved.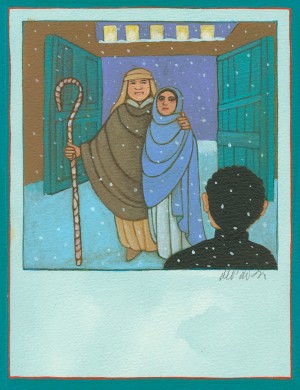 Tomie dePaola (American b. 1934)
It was Lupe and Robert, calling out as they rushed into the courtyard. "Did we ruin everything?", 1999
The Night of Las Posadas by Tomie dePaola [New York: G. P. Putnam & Sons, 1999, 25.] Acrylic on handmade watercolor paper.
Collection of the artist
©1991 by Tomie dePaola. All rights reserved.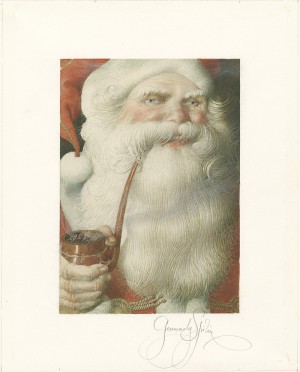 Gennady Spirin (Russian/American b. 1948)
The stump of a pipe he held tight in his teeth,…, 2006
The Night Before Christmas by Clement Clarke Moore, [Tarrytown, NY; Marshall Cavendish Corporation, 2006, 22.] Watercolor and colored pencil on paper
Collection of the artist
©2006 by Gennady Spirin. All rights reserved.
MEDIA
There is no media about this exhibition at this time.
VENUE(S)
Norman Rockwell Museum, Stockbridge, MA     November 17, 2018 through February 24, 2019
DIRECTIONS
Norman Rockwell Museum
9 Route 183
Stockbridge, MA 01262
413-298-4100 x 221
Download a Printable version of Driving Directions (acrobat PDF).
Important note: Many GPS and online maps do not accurately place Norman Rockwell Museum*. Please use the directions provided here and this map image for reference. Google Maps & Directions are correct! http://maps.google.com/
* Please help us inform the mapping service companies that incorrectly locate the Museum; let your GPS or online provider know and/or advise our Visitor Services office which source provided faulty directions.