Norman Rockwell Museum Celebrates Norman Rockwell's Spirit of the Holidays
Stockbridge, MA, November 23, 2016—In celebration of the season, Norman Rockwell Museum presents the exhibition Norman Rockwell's Spirit of the Holidays, and a weekend of holiday programming on December 3 and 4.
On Saturday, December 3, from 1:30 to 2:30 p.m., join illustrator Dan Howe for a narrated painting demonstration. Through his live presentation, Howe will show the step-by-step technique that Norman Rockwell used to create some of his most memorable holiday images. At 2 p.m., meet musician Mary Jo Maichack, who will present an afternoon of holiday songs and storytelling. From 2 to 5 p.m., families will also have the opportunity to create their own art to present as gifts during the holidays; tour our exhibitions of Norman Rockwell's holiday paintings, Saturday Evening Post covers, and the animation art of Hanna-Barbera; view our Stockbridge Main Street at Christmas train display; and enjoy treats inspired by the season. The afternoon, hosted by Museum trustees Mary Jo and Walter Engels, is free with regular Museum admission.
On Sunday, December 4, from 12 to 2 p.m., join Museum staff at St. Paul's Church in downtown Stockbridge to create and decorate festive holiday stockings and ornaments of your own. Presented as part of the annual Stockbridge Main Street at Christmas weekend, inspired by Rockwell's classic painting (currently on view at the Museum), the event is sponsored by the Stockbridge Chamber of Commerce. See StockbridgeChamber.org for programs and admission information.
Norman Rockwell's Spirit of the Holidays
November 22, 2016 through January 29, 2017
Many of Rockwell's depictions of the holidays are inspired by the work of Charles Dickens, which he read as a child with his family. In addition to Christmas covers for The Saturday Evening Post and other periodicals of the day, family gatherings were forever frozen in time in the artist's many advertisements and Hallmark greeting cards. Norman Rockwell's Spirit of the Holidays shows how the artist's paintings and drawings inspired feelings of warmth and good cheer for generations to come.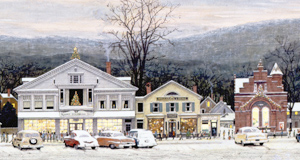 Click edit button to change this text.