Out of the Darkness: The Art of Frank Miller

(postponed)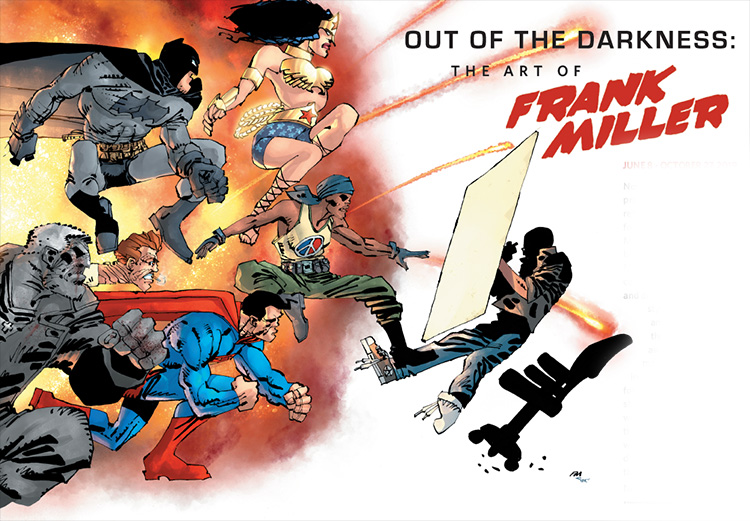 © Frank Miller, Inc. DC Characters TM and © DC Comics.
This exhibition has been postponed. Exhibition dates TBA



Norman Rockwell Museum presents the very first retrospective art exhibition for legendary artist Frank Miller. Through the lens of his gritty worldview, Frank Miller has redefined the way comic books are written and drawn. Miller's distinct style, world-building, and elevation of the anti-hero have awarded him every major comic book industry award and a global following. The exhibit will showcase over 100 original works created by Miller throughout his career and will include interactive displays designed by the artist.
ABOUT THE ARTIST
FRANK MILLER is regarded as one of the most influential and awarded professionals in the entertainment industry today, known for his intense, hard-boiled storytelling and gritty noir aesthetic across comics, graphic novels and film. Recently, Miller alongside Brian Azzarello completed DC's best-selling "Dark Knight III: The Master Race," a nine-issue second sequel to "The Dark Knight Returns."
Miller made his feature film directorial debut in 2005 with Sin City, the adaptation of his graphic novel, which he co-directed with Robert Rodriguez. The critically acclaimed film was nominated for a Palme d'Or at the 2005 Cannes Film Festival, won the Austin Film Critics Award and garnered a Czech Lion nomination. In 2015, Miller and Rodriguez returned as co-directors on a sequel with Sin City: A Dame to Kill For which reunited the duo with returning cast members as well as series newcomers Josh Brolin, Joseph Gordon-Levitt, Eva Green and Lady Gaga among others.
The Sin City books have garnered numerous awards, including two Harvey awards for Best Graphic Album of Original Work in 1998 and Best Continuing Series in 1996; and six Eisner Awards, including those for Best Writer/Artist, Best Graphic Novel Reprint, Best Cartoonist, Best Cover Artist, Best Limited Series and Best Short Story. In 2015, Miller was inducted into the Will Eisner Award Hall of Fame for his lifetime of contributions to the industry.
RELATED EVENTS
February 1, 2020 @ 2:00 pm
-
4:00 pm
Coming soon!