Norman Rockwell Museum Presents "Presidents, Politics, and the Pen: The Influential Art of Thomas Nast"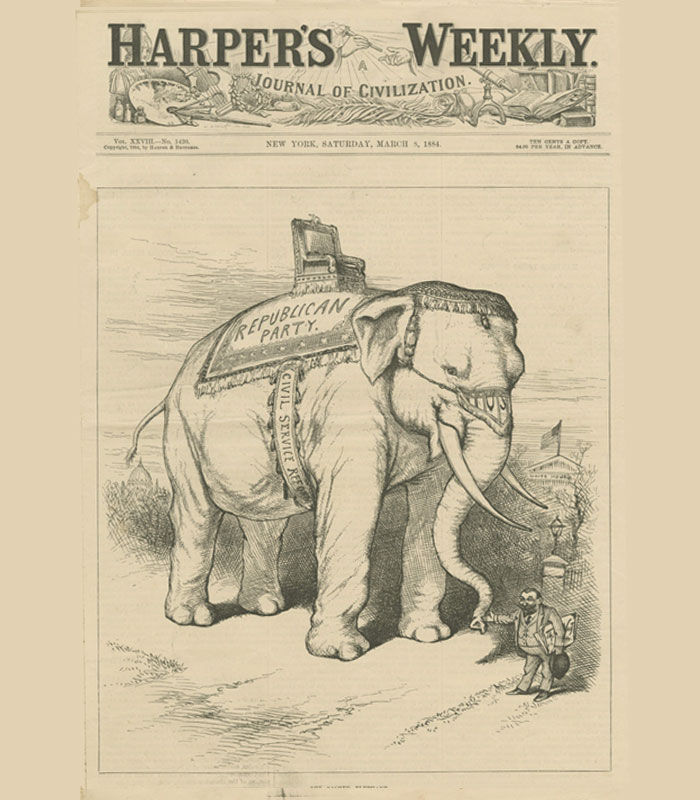 Thomas Nast (1840-1902), cover illustration for "Harper's Weekly," March 8, 1884. Norman Rockwell Museum Collections.
Exhibition of "The Father of Modern Political Cartoons" On View September 10 through December 4, 2016
Stockbridge, MA, August 11, 2016—As America focuses on the spectacle of this year's presidential election, Norman Rockwell Museum takes a look back at the 19th century to examine the impact that one of the nation's greatest image-makers had over its politics. Presidents, Politics, and the Pen: The Influential Art of Thomas Nast will be on view at the Museum from September 10 through December 4, 2016.
Thomas Nast (1840-1902) was a noted illustrator whose political cartoons had considerable influence over the nation 150 years ago. Known as "The President Maker," Nast's cartoons proved crucial in affecting the outcome of six presidential elections, which his favored candidates were known to win. The artist held presidential-hopefuls accountable for the issues of the day—from political corruption to imperialism, inflation, and civil rights. 
Although lacking formal education, Nast's imagery included identifiable caricatures, scathing satire, and creative references to Shakespearean tales and Greek mythology. Nast's representation of the donkey and elephant as symbols for the Democratic and Republican parties, respectively, continues to endure more than a century later. 
Presidents, Politics, and the Pen will feature over 25 editorial cartoons by the "Father of the American Cartoon," published by Harper's Weekly between 1864 and 1884. The exhibition will include original artworks on loan from Macculloch Hall Historical Museum, a digital tour, as well as original Harper's Weekly tear sheets donated to the Museum by Stephen Yasinow and Laurie Cormier. The display will reflect the artist's pointed opinions on the presidential candidates and campaigns of the day. The exhibition is sponsored, in part, by The Berkshire Eagle.
"Thomas Nast's work was very effective in showcasing his sense of humor and strong opinions," notes Norman Rockwell Museum archivist Venus Van Ness, who organized the exhibition along with fellow curator Barbara Rundback. "Not only did his work influence generations of artists, but the topics he commented on remain timely and at the forefront of politics to this day." 
Contemporary illustrator/political cartoonist Steve Brodner adds that, "Thomas Nast was the most important political cartoonist in the United States. He was given extraordinary gifts: super human skill; a perfect political storm to satirize; a very small media ecosystem, where every jolt hit like a hurricane; and a reproduction method that enabled all his work to look like it was the work of many men. There will never be another Nast, but none of us working cartoonists will ever get that through our heads. We try every day to hit the bulls-eye as well as he did."
A special opening program for Presidents, Politics, and the Pen will be held at the Museum on Saturday, September 10, starting at 5:30 p.m. Award-winning political cartoonist and historian Steven Brodner will provide a lively look at Nast's career, starting at 6:30 p.m. Admission to the event is $20, or free for Museum members. RSVP by September 3 by contacting the Museum at 413.931.2264 or rsvp@nrm.org.
The show's curators will offer special gallery tours of the exhibition on Wednesdays, September 14, October 26, and November 16, starting at 3 p.m. Visit www.nrm.org for more details on related programming.
About Thomas Nast
Born in Landau, Germany in 1840, Thomas Nast immigrated to the United States with his family at age six. Nast demonstrated artistic talent early on, and joined the staff of Harper's Weekly magazine in 1862, at the age of 22. First published on January 3, 1857, Harper's Weekly was aimed at the middle and upper socio-economic classes; when the Civil War commenced, Harper's supported President Abraham Lincoln, the preservation of the Union, and the Republican Party. Military coverage was at the forefront of every issue, that kept soldiers at the fronts and their families at home informed on latest skirmishes.
Acting as a reporting illustrator for Harper's, Nast depicted the Civil War battlefield and camp scenes by drawing emotionally charged pictures of adventure and bravery as well as its bloody tragedy. Published September 3, 1864, one of his most popular illustrations,Compromise with the South, depicts Columbia – a classically draped female figure symbolizing America – weeping over the grave of Union soldier while a surviving soldier shakes the hand of Jefferson Davis. This image was later used by Republicans in the 1864 campaign to re-elect Lincoln, and helped launch Nast's career as a prominent artist and celebrity illustrator.
Nast continued working for Harper's for 24 years, leaving in 1886. Having lost most of his fortune due to bad investments, he returned to the lecture circuit and took other cartooning commissions.  He also took control of a failing magazine, The New York Gazette, and renamed it Nast's Weekly. 
In 1902 President Theodore Roosevelt, an admirer of the artist, offered Nast an appointment as the United States' Consul General to Ecuador. Just five months into working in his new position, Nast contracted yellow fever and died on December 7, 1902. He was buried in Woodlawn Cemetery in The Bronx, New York City, yet his influence can be felt in political cartoons to this day.