UNITED STATES DISTRICT COURTS TO DISPLAY ICON NORMAN ROCKWELL IMAGES
Stockbridge, MA, August 24, 2016—Norman Rockwell Museum announces the unveiling of a unique civic exhibition of Norman Rockwell artwork starting this fall at three United States District Courts in Massachusetts. With the assistance of Robert Farrell, Clerk of Court, U.S. District Court, District of Massachusetts, high-quality canvas reproductions of Rockwell's The Four Freedoms (1943) and Golden Rule (1961) paintings will be on view in the courthouses of Boston, Worcester, and Springfield. Prints of The Four Freedoms have also been on display at the Pittsfield District Court for many years.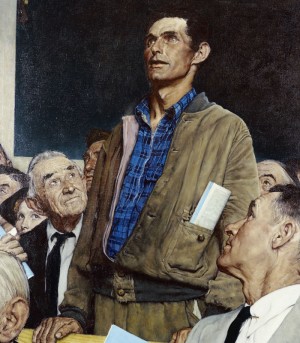 "A longtime Massachusetts resident, Norman Rockwell reminded us all about the importance of participating in government and our responsibility as citizens," states Robert Farrell. "Our Federal Courthouses, as focal points of civic engagement in our community, are perfect venues to display these iconic images."
"The promise of freedom and of equal justice for all, are imbued in Norman Rockwell's Four Freedoms paintings," notes Norman Rockwell Museum Director and CEO Laurie Norton Moffatt. "We are honored to share these inspiring images offering hope, respect, civility and community at its finest, in the important settings of American democracy in our Commonwealth Courtrooms."
Ms. Norton Moffatt will join state officials during an official reception to celebrate the unveiling at the Boston courthouse on Friday, September 23, starting at 3:30 p.m. She will join District Judge Patti Saris and Senior District Judge Douglas P. Woodlock in offering opening remarks at the unveiling of the permanent installation. Jon Spack, Executive Director of Discovering Justice, a civics education non-profit organization based in the Moakley Courthouse; and Matthew Baltay, Esq., President of the Massachusetts Chapter of the Federal Bar Association; will also speak during the presentation.
Additional ceremonies will be held in Springfield on Thursday, October 6, at 3 p.m, and at Worcester on Tuesday, October 11, at 2 p.m.
This year marks the 75th anniversary of President Franklin Delano Roosevelt's 1941 "Four Freedoms" address to congress, which inspired Rockwell's iconic images. After their publication in The Saturday Evening Post, the original paintings were reproduced and distributed widely by the United States Treasury Department, and went on to tour the nation, helping sell 133 million dollars in war bonds and stamps in the process. Rockwell's Golden Rule painting later inspired a mosaic on view at the United Nations; last year the artwork was part of an exhibition at the UN headquarters to celebrate the 70th anniversary of the peacekeeping organization. The original Four Freedoms and Golden Rule paintings are part of the permanent collection of Norman Rockwell Museum.