Norman Rockwell Museum Presents Home Run! An All-American Baseball Day
Stockbridge, MA, June 28, 2016—Norman Rockwell Museum will celebrate the Fourth of July weekend with Home Run! An All-American Baseball Day on Saturday, July 2, from 1 to 5 p.m. Pay tribute to our national pastime and the artists who captured the excitement of the game during this afternoon family festival.
Starting at 1 p.m., meet former Major League Baseball pitcher Jonah Bayliss, current general manager of the North Adams Steeple Cats, and learn about their promising 2016 season. At 1:30 p.m., join members of the Pittsfield Suns, who will play a quick game of catch with visitors. At 2 p.m., illustrator Joseph Farnham will provide a drawing demonstration related to his Drawn to the Game vintage baseball art, followed by a talk by Jim Overmyer, author of Baseball in the Berkshires, detailing the region's rich history related to the sport. Rounding out the day at 4:30 p.m., Baseball Hall of Fame educator Larry Moore will offer a look at the history of the baseball bat. Throughout the day visitors will have the opportunity to play baseball on the Museum's lawn, create their own baseball card, and enjoy a display of baseball-related photos and ephemera.
The event is free for Museum members, or included with Museum admission.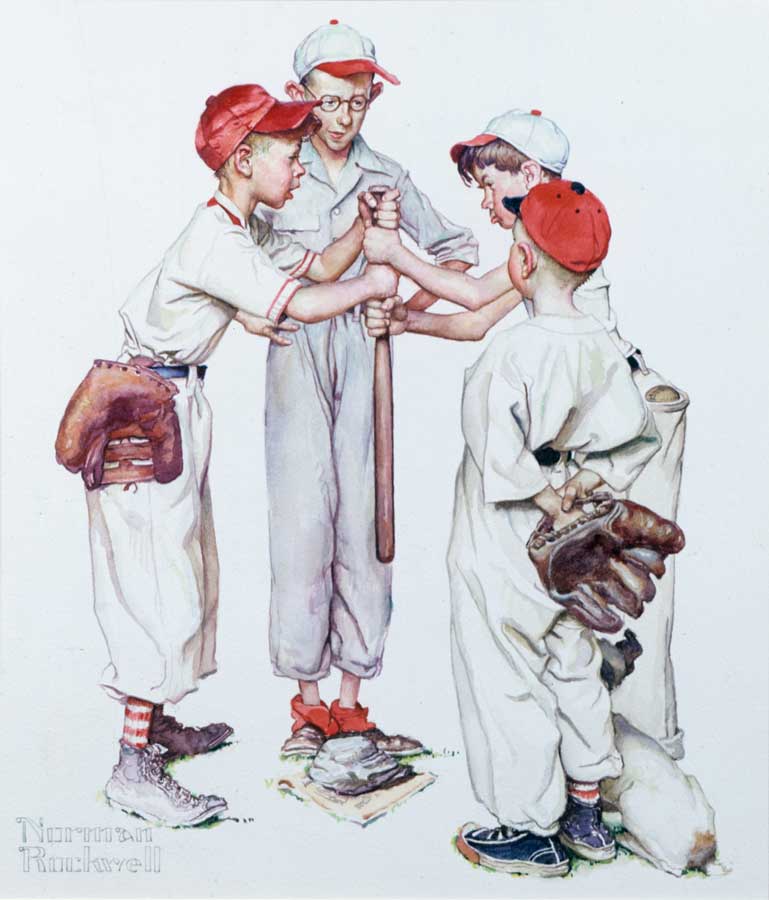 "Four Sporting Boys: Baseball," Norman Rockwell, 1951.
Collection of Williams High School Alumni Association on permanent loan to Norman Rockwell Museum. ©NRELC: Niles, IL.