Norman Rockwell Museum To Present Talk on Art and Civil Rights with Maurice "Pops" Peterson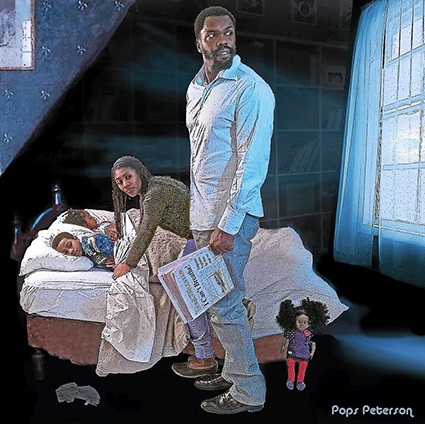 Pops Peterson, "Freedom From Fear," 2014.
Courtesy Pops Peterson. All rights reserved.
Stockbridge, MA, August 2, 2016—Norman Rockwell Museum will present "Van Der Zee to Rockwell and Beyond: Art and Civil Rights," an evening with artist Maurice ""Pops" Peterson, on Saturday, August 6, starting at 5 p.m. Explore the relationship between art and the civil rights movement with Peterson, who was honored for his series that re-imagined the art of Norman Rockwell to reflect the realities of 21st century life. The event is free for Museum members, or included with Museum admission. Reservations are suggested by contacting the Museum at 413.931.2221 or register@nrm.org.
Maurice "Pops" Peterson began his artistic pursuits as a painting major at the High School of Music and Art, with further studies at Pratt Institute and Columbia University. For many years Peterson wrote for such publications asAndy Warhol's Interview, Essence Magazine, The Village Voice, and New York Times. He also authored stage plays as well as television and screenplays, including the 1982 film, Homework, starring Joan Collins, and created the world's first telephone soap opera, "Dial-A-Soap!" with Jon Rupp.
Since 2005, Peterson has been the owner and general manager of SEVEN salon.spa, with his husband, Mark Johnson. After nearly twenty years as a web designer and layout artist, he also entered the world of fine art; his debut solo exhibition, New Frontiers in Pop Art, was presented at Lauren Clark Fine Art in Great Barrington, Massachusetts in 2014. He was named the first Artist in Residence of the Massachusetts Commission Against Discrimination for 2015-2016, and honored for his work at the Northeast Regional Fair Housing and Civil Rights Conference. Learn more at the artist's website: www.popspeterson.com