Norman Rockwell Museum and Google Arts & Culture Present Norman Rockwell: Presidential Elections Illustrated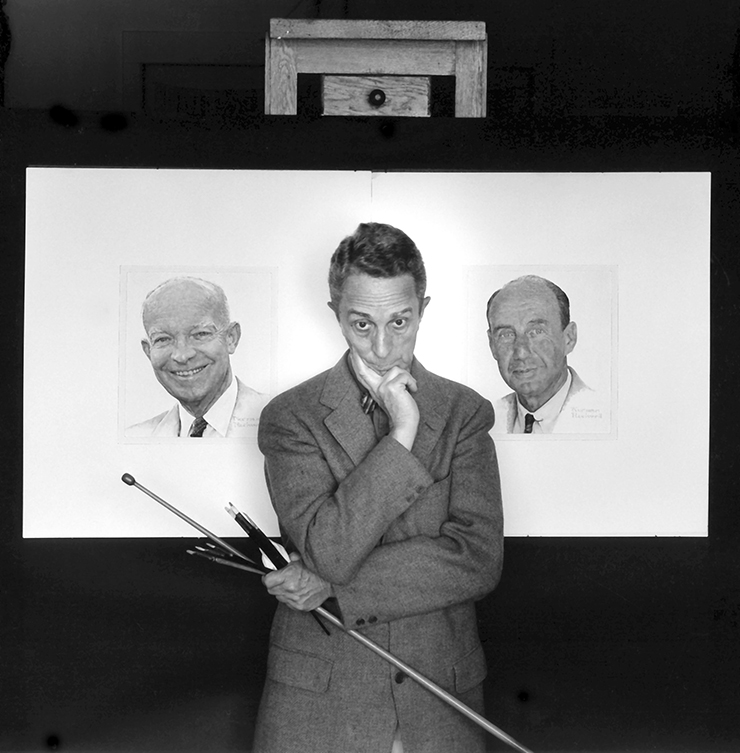 Publicity photo for Norman Rockwell's "Portraits of the Candidates: Adlai E. Stevenson, Dwight D. Eisenhower," 1956.
Norman Rockwell Museum Collections. ©Norman Rockwell Family Agency. All rights reserved.
Online Exhibition Celebrates American Democracy Through The Artist's Many Portraits of Presidential Candidates
Stockbridge, MA, July 13, 2016—In recognition of this significant presidential election year in the United States, Norman Rockwell Museum has partnered with Google to share artworks and artifacts from its permanent collection that illustrate Norman Rockwell's many commissioned presidential portraits.Norman Rockwell: Presidential Elections Illustrated presents Rockwell's paintings, rarely seen studies, reference photos, and correspondence relating to presidential campaigns during the 1950s and 1960s, including the tumultuous election year of 1968—the exhibition is available online starting today.
This partnership is part of the Google Arts & Culture's American Democracycollection, which brings together over 60 exhibits and 2500+ artifacts from 44 institutions dedicated to the preservation of U.S. political history and the practice of American democracy. The exhibition is available at: google.com/culturalinstitute/beta/project/american-democracy, and through the Google Arts & Culture mobile app for iOS and Android.
Norman Rockwell Museum's Manager of Media Services, Jeremy Clowe notes that, "Norman Rockwell became one of the most popular and trusted American artists during the twentieth century. Portraits created by the artist were highly sought after, not only by publications but political candidates themselves. By collaborating with Google Arts & Culture, we are able to share with a worldwide audience the many fascinating and informative artworks and documents we have related to American presidential elections."
Together with the Museum's curatorial staff, Clowe compiled over 20 digital and video resources related to the project. From rarely seen photographs with Presidents Dwight D. Eisenhower, Lyndon B. Johnson, Richard Nixon, and Ronald Reagan; to distinguished paintings of President John F. Kennedy and his brother/presidential candidate Robert Kennedy—the exhibition offers an intimate look at our nation's highest office through the eyes of America's favorite illustrator. Drawings, paintings and photographs from the Museum's permanent collection that are featured in the exhibition include portraits of Dwight D. Eisenhower, Barry M. Goldwater, John F. Kennedy, Lyndon B. Johnson, Richard Nixon, Ronald W. Reagan, and Adlai E. Stevenson.
A highlight of the exhibition and the Museum's permanent collection are paintings created by Norman Rockwell for Look magazine in 1968, covering the turbulent presidential elections that year. Portraits include presidential candidates Hubert H. Humphrey, Lyndon B. Johnson, Robert F. Kennedy, Eugene J. McCarthy, Richard M. Nixon, and Nelson A. Rockefeller. Rockwell once remarked: "I am no politician and certainly no statesman. But I have painted thousands of people and should by now be a judge of what their faces say about what they are."
Norman Rockwell Museum's Deputy Director/Chief Curator Stephanie Plunkett states that "we are pleased to be able to continue this important partnership with Google Arts & Culture. It has greatly assisted the Museum's goal of making broad public access to our collections and related content to audiences around the globe. We look forward to further connecting with new viewers who encounter Rockwell's art online."
Norman Rockwell Museum partnered with Google earlier this year for an online exhibition looking at Norman Rockwell's civil rights era paintings. In 2012, the Museum was one of the international cultural organizations to join Google Art Project, the company's online art database. Attracting a worldwide audience, all of the Museum's online collaborations with Google Arts & Culture can be viewed at: www.google.com/culturalinstitute/project/art-project
About Google Arts & Culture
Google Arts & Culture is a product of the Google Cultural institute and its partners designed to put the world's cultural treasures at the fingertips of Internet users and to assist the cultural sector in sharing more of its diverse heritage online. The Google Cultural Institute has partnered with more than 1100 institutions, providing the Arts & culture platform to over 400 thousand artworks and a total of 5 million photos, videos, manuscripts and other documents of art, culture and history. The exhibitions on Google Arts & Culture are open for all online, for free on the web and through the new Google Arts & Culture mobile app on iOS and Android. Learn more at: www.google.com/culturalinstitute/about