Illustrator Dan Howe To Present Painting Workshop July 25 through 29 at Norman Rockwell Museum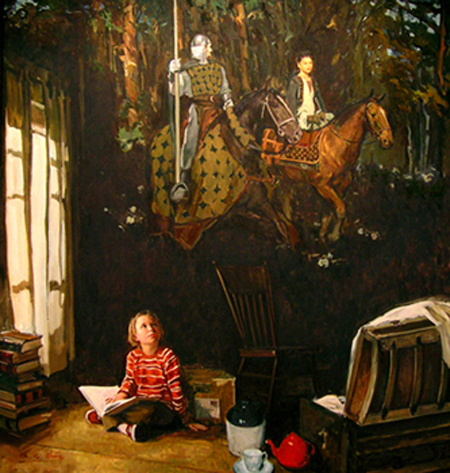 ©Dan Howe. All rights reserved.
Stockbridge, MA, July 21, 2016—Norman Rockwell Museum will present "Methods of the Golden Age Masters," a week long art workshop with painter/illustrator Dan Howe, from Monday, July 25 through Friday, July 29, from 10 a.m. to 4 p.m. Howe, whose work is featured in the Museum's new exhibition Rockwell and Realism in the Abstract World, will share his rich knowledge of the approaches to drawing and painting that were used by America's most prominent Golden Age illustrators. Light and shadow, color strategies, figure construction, and tone design will be discussed and demonstrated, as will direct painting from a model. All levels of ability are welcome.
Cost to attend the week long workshop is $250; $215 for Museum members.
Advance registration is required as enrollment is limited—please contact the Museum at 413.931.2221. 
Dan Howe is a contemporary realist painter and illustrator who has embraced the techniques of illustration's Golden Age, as exemplified by the art of Harvey Dunn, Mead Schaeffer, Andrew Loomis, and Tom Lovell (who he studied with in New Mexico). He has created artworks for publishers, corporations, public institutions, and private collectors. As a student at the American Academy of Art in Chicago, where he also taught, Howe drew much inspiration from the city's grand architecture and history. Characterized by a strong focus on the structural patterns and atmospheric effects created by light and shadow, Howe's art employs rich tonal harmonies and dramatic perspectives to establish a sense of illusionistic reality. Learn more at: www.danhowe.com
Rockwell and Realism in an Abstract World
On view through October 30, 2016
In post-World War II America, the primacy of abstract art was clearly acknowledged, and by 1961, when Rockwell painted The Connoisseur, Abstract Expressionism had been covered in the popular press for nearly 15 years. Originated in the 1940s by Pollock, Willem de Kooning, Franz Kline, Barnett Newman, and Mark Rothko, among others, Abstract Expressionism was the first American movement to achieve widespread international influence.
For the first time, Norman Rockwell Museum will explore the contrast between the abstract and realist movements, placing works by Rockwell, Wyeth, and Warhol side by side with Pollock, Calder, Johns, and over 40 other preeminent artists. Rockwell and Realism in an Abstract World examines the forces that forged the mid-century dismissal of narrative painting and illustration, as well as the resurgence of realist painting during the latter half of the twentieth century, its presence and critical consideration today, and the ways in which our contemporary viewpoints have been shaped by post World War II constructs.
The exhibition features the art of prominent illustrators, painters, and sculptors whose autographic art spans more than 60 years, representing many dynamic forms of visual communication.  Featured artists include: Marshall Arisman, Bo Bartlett, Austin Briggs, Alexander Calder, Alan E. Cober, Robert Cottingham, Robert Cunningham, Joe De Mers, Walton Ford, Eric Forstmann, Helen Frankenthaler, Bernie Fuchs, Sam Francis, Edwin Georgi, George Giusti, Ralph Goings, Cleve Grey, Brad Holland, Dan Howe, Jasper Johns, Jeff Koons, Anita Kunz, Jacqui Morgan, Robert Motherwell, Barbara Nessim, Barnett Newman, Tim O'Brien, Claes Oldenburg and Coosje Van Bruggen, Al Parker, Bob Peak, Philip Pearlstein, Jackson Pollock, Robert Rauschenberg, Larry Rivers, Norman Rockwell, Peter Rockwell, James Rosenquist, David Salle, Saul Steinberg, Cy Twombly, Andy Warhol, Robert Weaver, Thomas Woodruff, Andrew Wyeth, and Jamie Wyeth. The exhibition is sponsored by TD Bank.