Award-Winning Illustrator David Macaulay To Give Talk at Norman Rockwell Museum
Stockbridge, MA, July 19, 2016—Norman Rockwell Museum will present a special talk and print signing with award-winning author and illustrator David Macaulay on Saturday, July 23, from 1 to 3 p.m. A Caldecott Medalist and recipient of a prestigious MacArthur "Genius" Fellowship, Macaulay is celebrated for such international best sellers as Cathedral and The Way Things Work, which help us understand the workings of everything from simple gadgets to monumental structures. The artist will discuss his new book,Journey, which tells the story of his emigration from England on the U.S.S. United States, with a signing to follow. Children and families will be invited to design and build their own creative structures at a drop in art station. The event is free for Museum members, or included with Museum admission.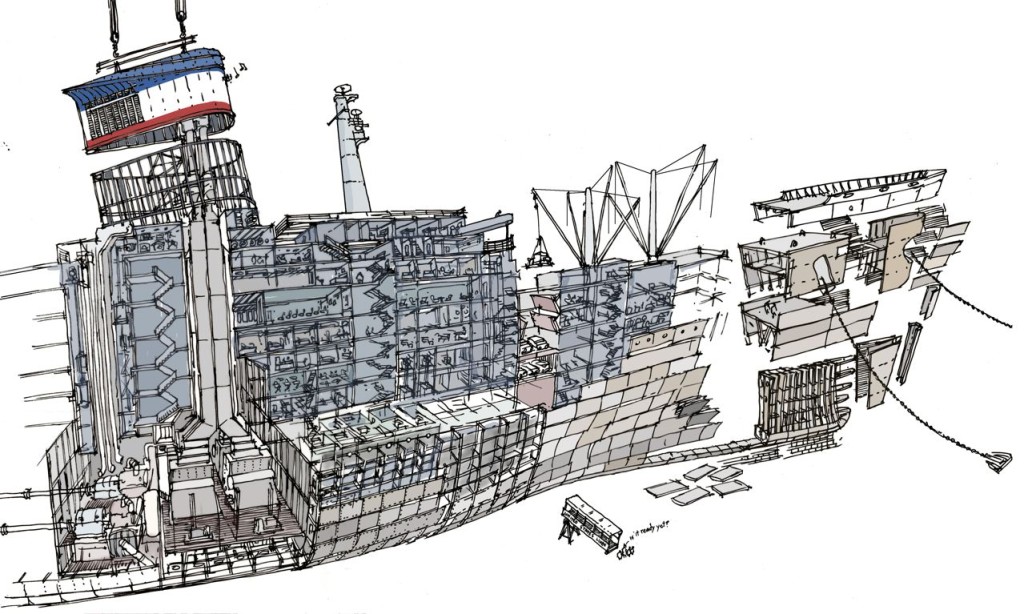 David Macaulay, sketch for "Journey." Courtesy SS United States.
©David Macaulay. All rights reserved.
David Macaulay inspires discovery by demystifying the complexities of our world while celebrating the places the imagination takes us when we least expect it. Transcending the boundaries of time, culture, and geography, the artist's award-winning books reveal his lifelong love of history, and are beloved by readers throughout the world. A Caldecott Medalist and recipient of a prestigious MacArthur "Genius" Fellowship, he is perhaps best known for his international best seller, The Way Things Work, but his many titles include Cathedral, City, Castle, Pyramid, Mill, Underground, Unbuilding, Black and White, Ship, Shortcut, Rome Antics, Mosque, and his latest, Journey. Macaulay was also the subject of Norman Rockwell Museum's 2004 exhibition Building Books: The Art of David Macaulay, and served as its Artist Laureate from 2011 to 2012. Learn more at: hmhbooks.com/davidmacaulay