Presidents, Politics and the Pen:
The Influential Art of Thomas Nast
An exhibition organized by Norman Rockwell Museum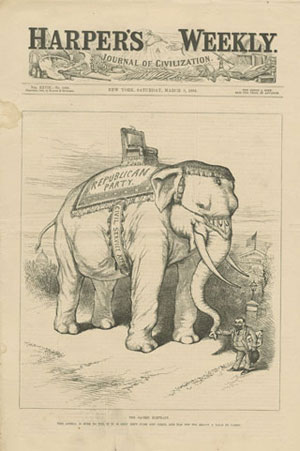 About the Exhibition
Harper's Weekly magazine was hugely popular thanks to its extensive use of illustrations, and its broad editorial content. By the end of 1861, Harper's had a circulation of 120,000 and became one of the leading magazines of the Civil War period. Thomas Nast (1840-1902) joined the staff of Harper's in 1862, and rose to prominence for his battle front depictions. As a liberal, progressive paper, Harper's supported President Abraham Lincoln, the preservation of the Union, and the Republican Party. A view that Nast also held strongly.
With Harper's as his platform, Nast effectively used satire and masterful caricatures to hold candidates accountable for the issues of the day, which included the economy, political corruption, immigration, and civil rights. Although Nast lacked formal education, he was extremely adept at incorporating allegorical, symbolic, and literary references into his detailed pictures as a way to explain the complex, political issues to Harper's readers. His representations of the donkey and elephant helped to solidify the enduring images as symbols for the Democratic and Republican parties, respectively.
Known as "The President Maker," Nast's persuasive, and sometimes scathing, cartoons proved crucial in influencing the nation's vote and affecting the outcomes of six presidential elections between 1864 and 1884. His illustrations supported the cause he believed was just, and the candidate he thought was best. While the names on the ballots have changed, the issues remain surprisingly similar more than 100 years later.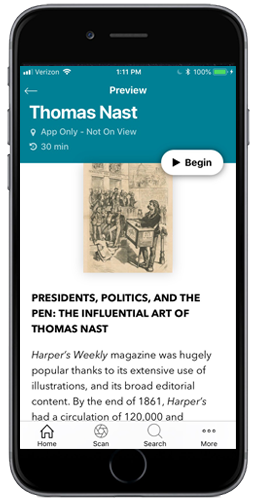 Access this exhibition on the Museum's Mobile App
Download it free from the App Store today!
RELATED EVENTS
There are currently no related events for this exhibition.
VENUE(S)
2017-Forward "Available for Travel"
Complete Facts
Fee:
For eight to twelve week exhibition period
Contents:
Approximately 30 original tearsheets; photographs; artifacts/personal memorabilia; video interview; introductory and biographical panels; and object/extended identification labels
Security:
High. All works must be within sight of a trained security officer/staff member at all times during public hours.
Environment:
Light level -18 to 22 foot candles for paintings and 5 to 7 foot candles for works on paper and other light restricted objects. Humidity -50% plus or minus 5% and temperature 68 – 72 degrees, no direct sunlight and no direct contact with light fixtures or heating, air conditioning, ventilation, or electrical outlets.
Space Requirements:
Approximately 525.28sf, 77.58lf
Shipping:
Air ride, Climate controlled
DIRECTIONS
Norman Rockwell Museum
9 Glendale Road / Route 183
Stockbridge, MA 01262
413-298-4100 x 221
Download a Printable version of Driving Directions (acrobat PDF).
Important note: Many GPS and online maps do not accurately place Norman Rockwell Museum*. Please use the directions provided here and this map image for reference. Google Maps & Directions are correct! http://maps.google.com/
* Please help us inform the mapping service companies that incorrectly locate the Museum; let your GPS or online provider know and/or advise our Visitor Services office which source provided faulty directions.