Norman Rockwell Museum and Google Arts & Culture Present Norman Rockwell: Presidential Elections Illustrated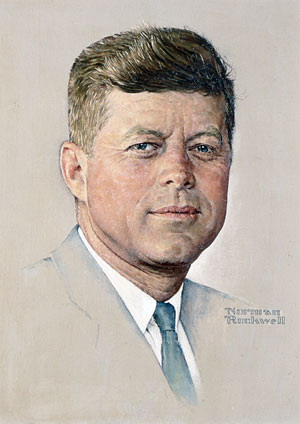 Exhibition Celebrates American Democracy Through
The Artist's Many Portraits of Presidential Candidates
 Stockbridge, MA, July 12, 2016—In recognition of this current presidential election year in the United States, Norman Rockwell Museum has partnered with Google to share artworks and artifacts from its permanent collection that illustrate Norman Rockwell's many commissioned presidential portraits. Norman Rockwell: Presidential Elections Illustrated presents Rockwell's paintings, rarely seen studies, reference photos, and correspondence relating to presidential campaigns during the 1950s and 1960s.
This partnership is part of the Google Arts & Culture's American Democracy collection, which brings together over 60 exhibits and 2500+ artifacts from 44 institutions dedicated to the preservation of U.S. political history and the practice of American democracy.  The exhibition is open for all at g.co/AmericanDemocracy and through the Google Arts & Culture mobile app for iOS and Android.
Norman Rockwell Museum's Manager of Media Services, Jeremy Clowe notes that "Norman Rockwell became one of the most popular and trusted American artists during the twentieth century. Portraits created by the artist were highly sought after, not only by publications but political candidates themselves. By collaborating with Google Arts & Culture, we are able to share the many interesting and informative documents we have related to this aspect of American democracy with a worldwide audience.
Together with the Museum's curatorial staff, Clowe compiled over 20 digital and video resources related to the project. From rarely seen photographs with Presidents Dwight D. Eisenhower, Lyndon B. Johnson, and Richard Nixon; to distinguished paintings of President John F. Kennedy and his brother/presidential candidate, Robert Kennedy—the exhibition offers an intimate look at our nation's highest office through the eyes of America's favorite illustrator. A highlight of the online exhibition is a look at Rockwell's portraits of the many candidates campaigning during the tumultuous presidential election of 1968.
"The Google Cultural Institute supports Norman Rockwell Museum's goal of making broad public access to our collections and related content to audiences around the globe," adds Museum Deputy Director/Chief Curator, Stephanie Plunkett. "We are pleased to participate in this expansive effort, and look forward to the responses of new viewers who encounter Rockwell's art online."
Norman Rockwell Museum partnered with Google earlier this year for an online exhibition looking at Norman Rockwell's civil rights era paintings. In 2012, the Museum joined Google Art Project, the company's online art database. Attracting a worldwide audience, all of the Museum's online collaborations with Google Arts & Culture can be viewed HERE
www.google.com/culturalinstitute/project/art-project
About Google Arts & Culture
 Google Arts & Culture is a product of the Google Cultural institute and its partners designed to put the world's cultural treasures at the fingertips of Internet users and to assist the cultural sector in sharing more of its diverse heritage online.  The Google Cultural Institute has partnered with more than 1100 institutions, providing the Arts & culture platform to over 400 thousand artworks and a total of 5 million photos, videos, manuscripts and other documents of art, culture and history.  The exhibitions on Google Arts & Culture are open for all online, for free on the web and through the new Google Arts & Culture mobile app on iOS and Android.  Learn more at: https://www.google.com/culturalinstitute/about
About Norman Rockwell Museum
 Norman Rockwell Museum holds the largest and most significant collection of art and archival materials relating to the life and work of Norman Rockwell. The Museum also preserves, interprets, and exhibits a growing collection of original illustration art by noted American illustrators, from historical to contemporary. The Norman Rockwell Museum Art Collection and Norman Rockwell Archive inspire a vibrant year-round exhibition program, national traveling exhibitions, and arts and humanities programs that engage diverse audiences. The collections, which are made accessible worldwide, are a comprehensive resource relating to Norman Rockwell and the art of illustration, the role of published imagery in society, and the American twentieth century.
Since its inception, Norman Rockwell Museum has explored the impact of illustrated images and their role in shaping and reflecting our world through changing exhibitions, publications, and programs. Dedication to a deepened understanding of the art of illustration has led to the formation of the Rockwell Center for American Visual Studies. The first of its kind in the nation, this research institute supports sustained scholarship and establishes Norman Rockwell Museum's leadership in the vanguard of preservation and interpretation relating to this important aspect of American visual culture.
Norman Rockwell Museum is located on 36 park-like acres in Stockbridge, Massachusetts, Rockwell's hometown for the last 25 years of his life. The Museum is open year-round; closed Thanksgiving, Christmas, and New Year's Day. From May through October, hours are 10 a.m. to 5 p.m. daily; from November through April, hours are 10 a.m. to 4 p.m. Monday through Friday, and 10 a.m. to 5 p.m. on weekends and holidays. The Museum will be open 10 a.m. to 7 p.m. on Thursdays during the month of August. Rockwell's studio is open May through October, 10 a.m. to 5 p.m. Museum admission is $18, $17 for seniors, $10 for students, $6 for kids and teens 6 to 18, and free for Museum members and children 5 and under. Visit the Museum online at www.nrm.org.