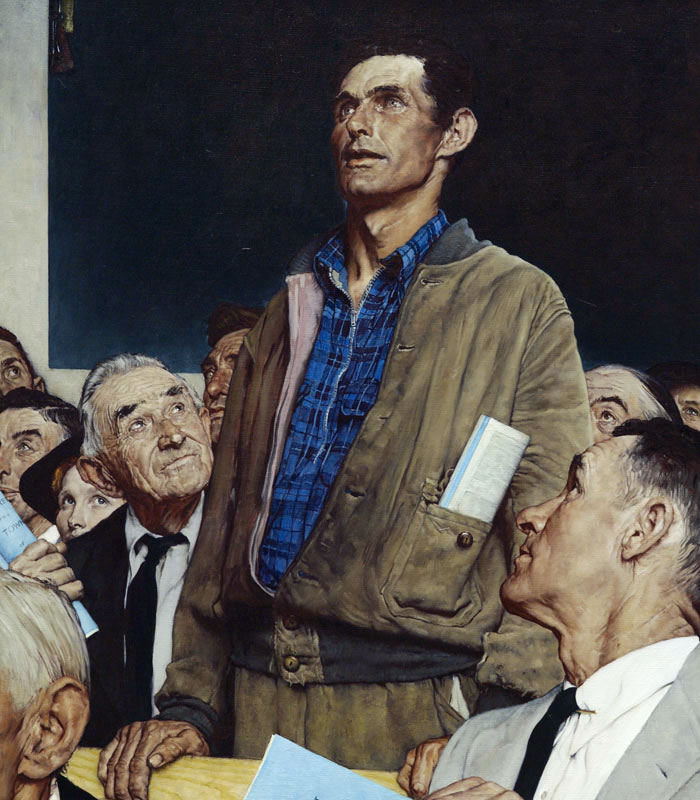 FOUR FREEDOMS FORUM
About the Four Freedoms Forums
This series of Town Hall conversations inspired by Norman Rockwell's Four Freedoms paintings will explore aspects of our democracy in a rapidly changing and increasingly global world. Noted commentators will offer observations and inspire community discourse, with a reception to follow.
Free to all.
 Norman Rockwell's Four Freedoms
In his January 1941 address to Congress, President Franklin Delano Roosevelt articulated his vision for a postwar world founded on four basic human freedoms: freedom of speech, freedom of religion, freedom from want, and freedom from fear.   In early 1943, the Saturday Evening Post published Norman Rockwell's Four Freedoms based on FDR's vision.  The paintings were a phenomenal success. After their publication, the Post received 25,000 requests for reprints.  The Four Freedoms are now part of the permanent collection of Norman Rockwell Museum and reside in their own specially designed gallery space, inviting visitors to reflect on their inspiring message.
Upcoming Events:
There are no upcoming events at this time.
Past Four Freedoms Forums site pages:
Freedom of the Press? American Journalism Today
May 25, 2017
No Place Like Home: The Refugee Crisis – LIVE STREAM
February 16, 2017
What's In Our Water?
September 22, 2016
Current State of Presidential Politics
January 29, 2016
Aging in America: Attitudes and Access
September 24, 2015
Visual Imagery and Freedom of Expression
April 9, 2015
The Cultural Legacy of War
January 15, 2015
A Nation Divided: Getting Past the Impasse
January 23, 2014
Power of Social Media
November 14, 2013
Youth, Identity, and Media
July 25, 2013
Gun Violence
April 25, 2013
Our Town: Can the Local Economy Flourish Despite the National Downturn?
April 26, 2012
21st Century Teens: Resources for Challenging Times
March 21, 2012
Educating Students for a Rapidly Changing World
February 23, 2012
Civil Discourse
January 26, 2012
Renewable Energy
May 5, 2011
Four Freedoms For All? A Community Dialogue About Immigration
March 24, 2011
Freedom From Want: Food, Farmers and Families
February 17, 2011
Sickness, Wellness and Social Responsibility. A Community Dialogue
January 27, 2011