ROCKWELL AND REALISM IN AN ABSTRACT WORLD

The essence of tradition is to invite the challenge that redefines it, and after many years on the periphery, realism has been reinvigorated by contemporary artists who see it as a way to address the experiences of living in our complex world. In post-World War II America, however, the primacy of abstract art was clearly acknowledged, and by 1961, when Norman Rockwell painted The Connoisseur―his visual treatise on the subject juxtaposing Jackson Pollock's nonrepresentational art with his own illusionistic imagery―Abstract Expressionism had been covered in the popular press for nearly fifteen years. By the mid-1950s, abstraction had successfully attracted collectors and critics whose passion for these visceral, less readable artworks was in itself noteworthy. This seismic shift in the art world also impacted the world of illustration, as many prominent practitioners championed more expressive, symbolic, and metaphoric approaches to their work.
Rockwell and Realism in an Abstract World  examines the forces that inspired the relegation of narrative painting, and especially the art of illustration, to a lesser status by mid-century. It also explores the resurgence of realist painting during the latter half of the twentieth century, its presence and critical consideration today, and the ways in which our contemporary viewpoints have been shaped by post World War II constructs. This eclectic installation features the art of prominent illustrators, painters, and sculptors whose autographic art spans more than sixty years, representing many dynamic forms of visual communication.
AGE OF ABSTRACTION
Jackson Pollock
Sam Francis
Barnett Newman
Robert Rauschenberg
Larry Rivers
Cy Twombly
Cleve Gray
Jack Tworkov
Robert Motherwell
Alexander Calder
Jasper Johns
Helen Frankenthaler
POP AND PHOTOREALISM
Andy Warhol
James Rosenquist
Roy Lichtenstein
Jeff Koons
Claes Oldenburg and Coosje Van Bruggen
Ralph Goings
Robert Cottingham
Philip Pearlstein
Andrew Wyeth
Alice Neel
Jamie Wyeth
David Salle
Marshall Arisman
Walton Ford
Bo Bartlett
Eric Forstmann
Thomas Woodruff
Saul Steinberg
Dan Howe
NEW REALISTS
Norman Rockwell
Louie Lamone
Martha Holmes
Robert Weaver
Edwin Georgi
Austin Briggs
Stevan Dohanos
George Hughes
Joe De Mers
Alfred Charles Parker
Bernie Fuchs
Bob Peak
George Giusti
Robert M. Cunningham
Jacqui Morgan
Barbara Nessim
Alan E. Cober
Brad Holland
Tim O'Brien
Anita Kunz
Peter Rockwell
N.C. Wyeth
The modern artist is working with space and time, and expressing his feelings rather than illustrating
– Jackson Pollock
IMAGES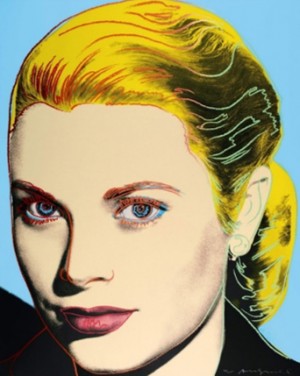 Grace Kelly, 1984. Andy Warhol. ©2016 The Andy Warhol Foundation for the Visual Arts, Inc. / Artists Rights Society (ARS), New York. Private Collection.
 Use of the image of Princess Grace of Monaco with permission of the Princess Grace Foundation-USA, which supports emerging artists in theater, dance, and film; www.pgfusa.org
I love it when I get admiring letters from people. And, of course, I'd love it if the critics would notice me, too.
– Norman Rockwell
RELATED EVENTS
There are no upcoming events at this time.
Realistic, naturalistic art had dissembled the medium, using art to conceal art. Modernism used art to call attention to art.
– Clement Greenberg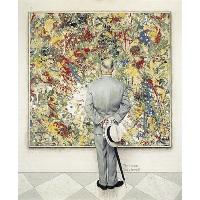 Connoisseur Giclee Print
From $17.00
"Norman Rockwell
Saturday Evening Post
cover January 13, 1962.
In 1961, Rockwell's studio was temporarily transformed into an abstract expressionist's workplace as he painted The Connoisseur, a painting about the relationship between conventional and modern art. Always fascinated by modern and abstract art, Rockwell designed a cover in which he could acknowledge his appreciation of the genre. By placing his back to us, he leaves the interpretation of the museum visitor's reaction to the viewer.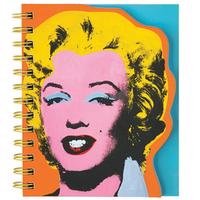 Andy Warhol: Marilyn Journal
$11.99
"In the future, everyone will be world famous for fifteen minutes."
So said iconic pop artist Andy Warhol, whose vibrant Marilyn Monroe print is the star of this layered journal. The die-cut shaped pages in the front are sturdy sketch paper, and the rectangular pages in back are lined writing paper. Behind the Marilyn shape is the above quote from Andy, and a repeating pattern of Monroe's gorgeous portrait is featured on the back.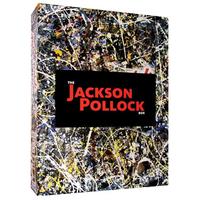 The Jackson Pollock Box: Energy and the Imagination
$29.95
The Jackson Pollock Art Box is designed to introduce you to Pollock the person and Pollock the artist, and to provide projects that will put you in touch with his creative process. Using his techniques, you can invent your own images and arrive at your own statement.
VENUE(S)
Norman Rockwell Museum, Stockbridge, MA     June 17 through October 30, 2016
DIRECTIONS
Norman Rockwell Museum
9 Glendale Road / Route 183
Stockbridge, MA 01262
413-298-4100 x 221
Download a Printable version of Driving Directions (acrobat PDF).
Important note: Many GPS and online maps do not accurately place Norman Rockwell Museum*. Please use the directions provided here and this map image for reference. Google Maps & Directions are correct! http://maps.google.com/
* Please help us inform the mapping service companies that incorrectly locate the Museum; let your GPS or online provider know and/or advise our Visitor Services office which source provided faulty directions.
HOST THIS EXHIBITION
This exhibition is not available for hosting yet. Stay tuned! Also, please refer to our list of exhibitions that are available for hosting here…