Watch the forum (Previously recorded)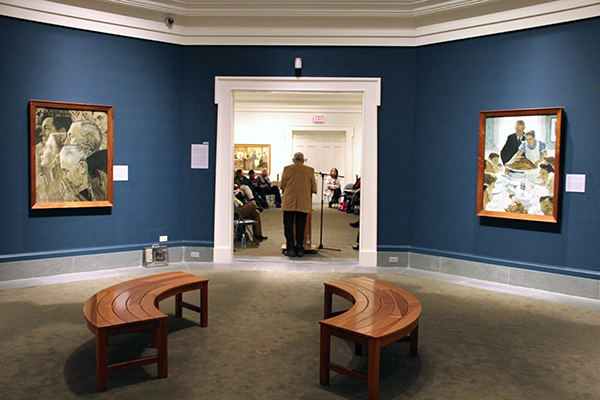 Stockbridge, MA, January 29, 2016—In celebration of the 75th anniversary of President Franklin Delano Roosevelt's "Four Freedoms" speech, Norman Rockwell Museum's Four Freedoms Forum series returns on Thursday, February 18, at 5:30 p.m., with a look at the current state of presidential politics. The evening's forum will address the ins and outs of the 2016 American presidential election cycle, its colorful candidates, and what it means for the future of the nation. Featured speakers will include: William "Smitty" Pignatelli, Democratic member of the Massachusetts House of Representatives; Stacy L. Wallach, attorney and professor; Dr. Steven Lomazow, FDR Presidential Scholar and member of the Museum's National Council; and Tammy Daniels, managing editor of iBerkshires.com.  The program is being sponsored by Dr. and Mrs. Steven Lomazow. Community conversation at the Four Freedoms Forums is free and open to the public.
William "Smitty" Pignatelli is the Democratic member of the Massachusetts House of Representatives, representing the 4th Berkshire District, consisting of the towns of Alford, Egremont, Great Barrington, Lee, Lenox, Monterey, Mount Washington, New Marlborough, Otis, precinct 5B of the city of Pittsfield, the towns of Sandisfield, Sheffield, Stockbridge, Tyringham and West Stockbridge in Berkshire County; and the towns of Blandford, Chester and Tolland in Hampden County.
Stacy L. Wallach is an adjunct professor at Pace University Law School in White Plains, NY, and history lecturer at OLLI at Berkshire Community College, Pittsfield, MA. Professor Wallach spent 18 years as a business, commercial, and real estate litigator with the law firm of Tenzer Greenblatt Fallon & Kaplan, and he then spent 18 years as a business executive; with the Edward S. Gordon Co. Inc. where he was general counsel, senior vice president, and member of its board of directors; with Insignia/ESG Inc where he was general counsel and senior vice president; with Cushman & Wakefield Inc, where he was senior operations director for C&W's New York Metro Region; and with CB Richard Ellis Inc, where he was senior managing director of that firm's New Jersey operations.
Dr. Steven Lomazow is a board-certified neurologist in Belleville, New Jersey. He is assistant professor of neurology at the Mount Sinai School of Medicine, a member of the New Jersey State Board of Medical Examiners, and former president of the Neurological Association of New Jersey. He received his medical degree from Rosalind Franklin University of Medicine and Science. He is the co-author of FDR's Deadly Secret, which looks at the late President's medical history. A collector and researcher of Norman Rockwell's book illustrations, the contribution of his extensive collection in 1979 to Norman Rockwell Museum is noted in Norman Rockwell: A Definitive Catalogue by Laurie Norton Moffatt.
Tammy Daniels is the managing editor of iBerkshires.com, a website devoted to Berkshire County. She has covered politics, education, community events, and breaking news throughout Northern Berkshire and Southern Vermont.
About Four Freedoms Forums:
Town Hall Meetings at the Norman Rockwell Museum
Join us to share your thoughts on the most compelling issues of our day. This series of Town Hall conversations inspired by Norman Rockwell's Four Freedoms paintings will explore aspects of our democracy and important social concerns in a rapidly changing and increasingly global world. Noted commentators will offer observations and inspire community discourse, with a reception to follow.
The tradition of Town Hall meetings has it roots in the founding of our nation where small New England communities would gather to invite citizen opinion and vote on matters of importance to the town. A town meeting is a form of direct democratic rule, used primarily in portions of the United States since the 17th century, in which most or all the members of a community come together to legislate policy and budgets for local government.
The Four Freedoms Forums are free and open to the public.