Press Release – September 25, 2015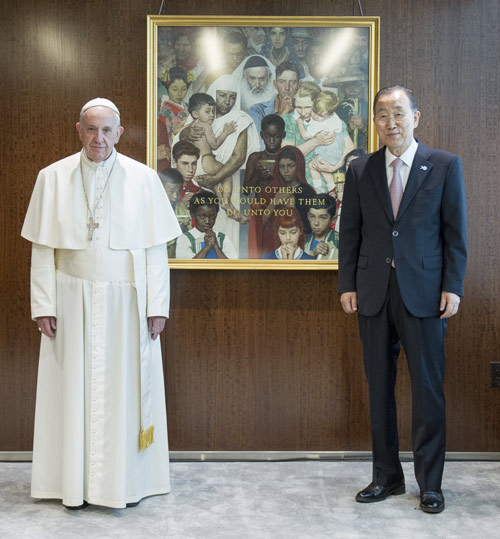 NEW YORK (AP) — Latest developments in Pope Francis' visit to the United States. All times local:
8:55 a.m.
Pope Francis has signed U.N. Secretary-General Ban Ki-moon's visitors' book as he visits the world body's headquarters.
The pontiff took a white card from his pocket and copied a lengthy message into the thick, bound book in the secretary-general's conference room.
The secretary-general also showed the pontiff a Norman Rockwell image on the wall. It's called "The Golden Rule" and bears the famous words: "Do unto others as you would have them do unto you."
About 400 U.N. staff gathered in the Secretariat lobby to greet him for a "town hall" meeting in the lobby.
---
Norman Rockwell's original painting "Golden Rule" was on view as part of a special collaborative exhibition held this summer at the UN headquarters. "Norman Rockwell's United Nations", was viewed by thousands of visitors over the last 3 months. View more about the exhibit here.