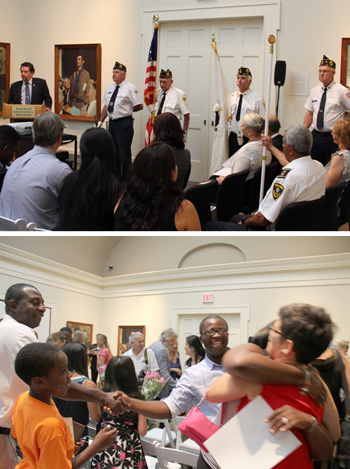 Stockbridge, MA, September 3, 2015—In partnership with Berkshire Immigrant Center, Norman Rockwell Museum will host a naturalization ceremony inside its galleries on Saturday, September 12, starting at 10 a.m. Berkshire County residents who immigrated to the country from around the world will be sworn-in as new naturalized United States citizens during a special ceremony to be held against the backdrop of Norman Rockwell's iconic Four Freedoms paintings.
"Hosting the citizenship naturalization ceremonies has been one of my most rewarding moments during all my years with the Museum," notes Norman Rockwell Museum Director/CEO Laurie Norton Moffatt. "As reflected in his art, Norman Rockwell celebrated all the world's cultures and peoples—I hope our new citizens will always feel at home here at the Museum, and hold a special memory of this ceremony."
This year's ceremony is made possible with generous support from Berkshire Bank and Helen Bing.
Twenty-five residents are expected to be sworn in as U.S. citizens during the September 12 ceremony; originating from such countries as Argentina, Bhutan, People's Republic of China, Ecuador, Germany, Ghana, Honduras, India, Indonesia, Jamaica, Japan, Lebanon, Peru, Philippines, Poland, Russia, United Kingdom, Venezuela and Vietnam.
The ceremony will be presided over by Massachusetts Superior Court Justice, Daniel A. Ford. Opening and welcoming remarks are to be provided by Ms. Norton Moffatt; and Luis Chaves, Field Office Director, United States Citizenship and Immigration Services.
"I am pleased and honored to have been asked to preside over this ceremony," states Judge Ford. "Welcoming new citizens to our great national family is one of the most significant and enjoyable responsibilities of a Superior Court judge."
Adding to the proceedings, the Dalton American Legion Post 155 Color Guard will present the colors, and Berkshire Immigrant Center's Brooke Mead will perform patriotic songs for new citizens, their families, and other local officials and dignitaries. David Hadley, Chief Court Officer for Berkshire County Superior Court, will formally open and close the program.
A reception to welcome and celebrate the new citizens will be held on the Museum's terrace following the ceremony. The event is designated as part of National "Welcoming Week," September 12 through 20, a nationwide event that highlights the contributions of immigrants to American communities.
Additional support for the event is encouraged, and can be arranged by contacting the Museum at 413.931.2221. Priority seating is given to new citizens and their families; Museum visitors are welcome to observe the ceremony based on space availability.
About Berkshire Immigrant Center
Each year the Berkshire Immigrant Center assists over one hundred local residents in their pursuit of U.S. citizenship. In general, to obtain U.S. citizenship, one must hold legal permanent resident (green card) status for a minimum of five years (three years if married this whole time to a U.S. citizen), take an exam on U.S. history and civics, demonstrate proficiency in the English language, and be of "good moral character" among other requirements. The Berkshire Immigrant Center offers assistance with every aspect of the naturalization process including screening for eligibility, application support, disability and fee waivers, legal assistance, transportation, advocacy with USCIS, and English language, history and civics classes. For more information about the Center, please call 413.445.4881 or email: info@berkshireic.com.