Norman Rockwell: Heroes, Humor, and Growing Up
Through October 12, 2015
Join us this summer for a redesign of our galleries, using themes prevalent throughout Norman Rockwell's career in illustration.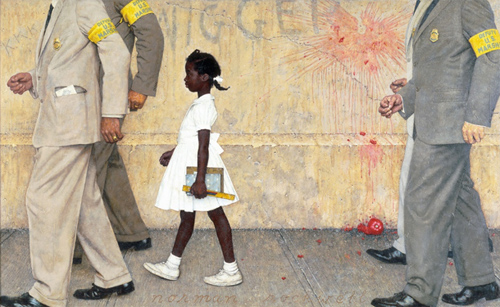 Norman Rockwell (1894-1978), "The Problem We All Live With," 1963. Oil on canvas, 36 x 58". Story illustration for "Look," January 14, 1964. Norman Rockwell Museum Collections. ©Norman Rockwell Family Agency. All rights reserved.
Coming Of Age
Many of Rockwell's most endearing works celebrate the joy of childhood. Featuring boys and girls enjoying a period of life when days are long and summer seems like it will never end, Rockwell's paintings reflect his desire to "paint life as I would like it to be." The artworks placed within the "Coming of Age" section are presented in chronological order determined by the subjects' age. This allows the visitor to experience Rockwell's sentimental vision of the innocence, emotion, and frivolity inherent in the natural evolution from childhood to adulthood, from Puppy Love toMarriage License.
Heroes
The "Heroes" section includes several beloved paintings created by Rockwell which outline courage in the face of injustice, a desire to help those less fortunate, and a recognition of the men and women who have fought for freedom, through works such as The Runaway, Peace Corps, and The Problem We All Live With.
The Runaway, Norman Rockwell. 1958. ©1958 SEPS: Licensed by Curtis Publishing, Indianapolis, IN :  The Peace Corps (J.F.K.'s Bold Legacy), Norman Rockwell. 1966.  © Norman Rockwell Family Agency
Humor
Norman Rockwell possessed a keen sense of humor and wit that is often overlooked when discussing his work. In fact, he included comical touches in many of his paintings. Including such human aspects enabled Americans to uniquely relate to the art of Norman Rockwell. His humor is on display in such works as Triple Self-Portrait and Marriage Counselor.
We also detail step-by-step the process Rockwell used to create some of his most famous paintings, including The Gossips and Art Critic. Props, photographs of models, studies, sketches, and the final paintings and related Saturday Evening Post covers are on display.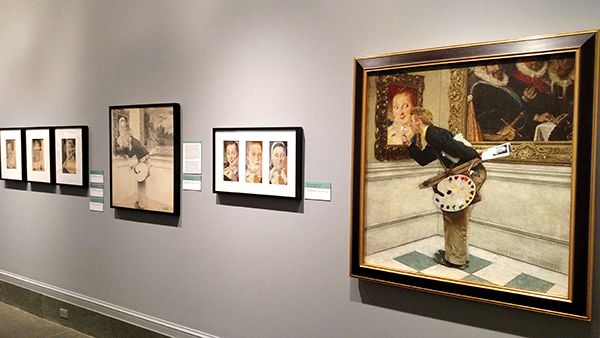 Photo of Norman Rockwell Museum's process gallery, summer 2015. Photo ©Norman Rockwell Museum. All rights reserved.