It's that time of year. Spring is finally in the air, and this weekend finds families celebrating both the Easter and Passover holidays. Norman Rockwell Museum will be open 10 a.m. to 5 p.m. throughout the weekend, and we welcome you and yours to enjoy our latest exhibitions.
This year, visitors have a unique opportunity to view all Saturday Evening Post covers created by both Norman Rockwell (1894-1978) and his hero, J.C. Leyendecker (1875-1951). Known for their holiday-themed covers, the question has been raised: how many Easter covers were created by both artists?
It will become pretty evident to those looking at Leyendecker's 322 covers that he regularly paid tribute to the Easter holiday. Starting with his April 22, 1905 cover depicting a young woman stylishly dressed in her bonnet, and ending with his March 23, 1940 cover picturing a glamorous, butterfly-winged female casting aside her winter garments; we counted 27 different Easter-themed covers by Leyendecker. Indeed, the holiday seemed a natural fit for the artist's preference for elegant, designed cover illustration.
But what of Rockwell? Widely recognized for his Christmas images, it might be surprising to learn that none of the artist's Post covers are emblazoned with the words "Easter" like the majority of those created by Leyendecker. Instead we are treated to four "Springtime" illustrations through the mid-1930s, starting with the April 16, 1927 cover, depicting a young boy serenading a pack of dancing animals. It wasn't until the 1950s that we see any Post cover resembling an Easter-theme, with Choir Boy, created for the magazine's April 17, 1954 edition. The painting was inspired by Rockwell's experience as a choirboy at New York's St. Luke's Episcopal Church. Unlike other children, Rockwell had little time for play after school. His parents were very strict—not allowing him to read the funny papers until Monday, for instance—and his afternoons were occupied with choir practice and church services.
Easter Morning, which appeared on the May 16, 1959 cover of the Post, may have expressed Rockwell's true feelings. The painting showcases a disheveled father-figure hiding from his family, who are off to attend Sunday morning services; other readers interpreted the illustration as commentary on society's deteriorating values.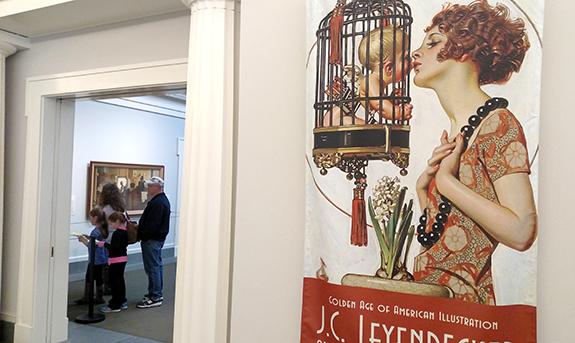 Regardless, we invite our visitors to conduct their own "Easter Egg Hunt" this weekend (we found about ten Rockwell covers, typically created during the month of April, that could qualify as "holiday-related"). In addition to the covers, be sure to pick up one of our art scavenger hunt sheets, to further add to the enjoyment of your gallery experience.
Happy Holidays!
"Easter Cover Art," Saturday Evening Post, April 1, 2015