J.C. Leyendecker and The Saturday Evening Post
March 21 through June 14, 2015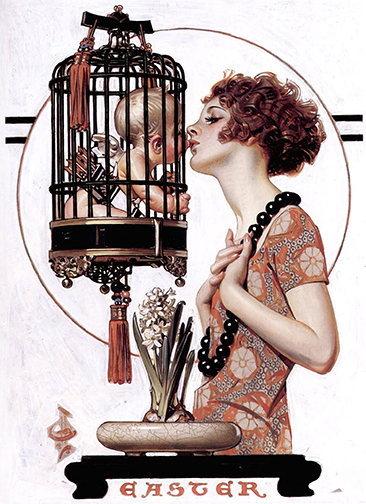 J.C. Leyendecker (1874-1951), "Kissing Cupid," 1923. Cover illustration for "The Saturday Evening Post," March 31, 1923. Oil on canvas. The Kelly Collection of American Illustration.
Admired by Norman Rockwell as a master in the field, Joseph Christian Leyendecker (1874 –1951) was one of the preeminent American illustrators of the early twentieth century. Often remembered for his beautifully conceived posters and advertisements, particularly those featuring The Arrow Collar Man, he also created 322 covers for The Saturday Evening Post—one more than Rockwell's 321. This gallery installation features a special selection of more than thirty original paintings by the artist, including original Post cover illustration, elegant clothing advertisements, and rarely-seen New Year's Babies. Works by F.X. Leyendecker, the artist's talented brother, are also on view.
This exhibition is sponsored by William and Sandy Hargreaves, Valerie & George Kennedy, and Carol Konner.
We are grateful to our lenders, William Hargreaves, Carol Konner, The Eisenstat Collection of Illustration, Illustrated Gallery, The Kelly Collection of American Illustration, National Museum of American Illustration, and other private collections for making rarely-seen original artworks available for exhibition.
Image Credits:
J. C. LEYENDECKER (1874-1951) Fire Hydrant Shower 1915 Cover illustration for The Saturday Evening Post, July 24, 1915. Oil on canvas. Private Collection.
J. C. LEYENDECKER (1874-1951) J. C. LEYENDECKER (1874-1951) Hailing You for the U. S. Navy 1918. Illustration for Navy Recruitment Poster. Oil on canvas. Private Collection
J. C. LEYENDECKER (1874-1951) 1925. New Year's Baby (License Plate and Wrench) 1925. Cover illustration for The Saturday Evening Post, January 3, 1925. Oil on canvas. Private Collection
J. C. LEYENDECKER (1874-1951) Kissing Cupid 1923. Cover illustration for The Saturday Evening Post, March 31, 1923. Oil on canvas. The Kelly Collection of American Illustration.
J. C. LEYENDECKER (1874-1951). Soldier's Letter to Home, 1917. Cover illustration for The Saturday Evening Post, October 7, 1917. Oil on canvas. Collection of Illustrated Gallery, Fort Washington, PA.
J. C. LEYENDECKER (1874-1951) Beau Brummel is the Fairest 1925. Cover illustration for The Saturday Evening Post, April 11, 1925. Oil on canvas. The Kelly Collection of American Illustration.
J. C. LEYENDECKER (1874-1951) USA Bonds: Weapons for Liberty 1918. World War I Poster. Norman Rockwell Museum Collection, Gift of Thomas and Edward Pulling, grandson and great-grandson of the Honorable R.C. Leffingwell, Assistant Secretary of the Treasure and head of the War Loan Organization
Press:
"Norman Rockwell Museum remembers J.C. Leyendecker" Berkshire Eagle, March 19, 2015
"Exhibition looks at career of influential illustrator and hero to Norman Rockwell" Art Daily.org, March 23, 2015
"Artist had more Saturday Evening Post covers than Rockwell" The Schenectady Gazette, April 1, 2015
"The Great Leyendecker" American Fine Art Magazine, April 2015
"Jazz-age music will accompany jazz-age art at Norman Rockwell Museum," Berkshire Eagle, May 7, 2015
"The Great Leyendecker: Largely Forgotten Illustrator Created Iconic American Images," Greenfield Recorder, May 13, 2015