Did you know that prior to Norman Rockwell and his family moving to Stockbridge, Massachusetts in 1953, that Stockbridge had been a locale with its own bevy of artists and illustrators? And not just the sculptor Daniel Chester French (1850-1931) either.
While Daniel Chester French had grown up in Concord, Massachusetts, he had also lived in New York, Rome, Washington, D.C., and Paris. In 1897 French returned to Massachusetts creating a home, studio, and gardens off Glendale Road in Stockbridge. According to a report on the Yale Hill district of Stockbridge (see Massachusetts Cultural Resource Information System
[MCRIS], inventory no., STO.A.) Daniel Chester French may have helped design the garden of Nina Duryea, the daughter of Boston architect Franklin W. Smith. Other local gardens French had a hand in include a path and planting at Hillside, and a garden behind the house of Dr. William B. Terhune—both on Yale Hill.
Yale Hill was also the home of the artist and illustrator Walter E. Nettleton (1861-1936). Born and raised in New Haven, Connecticut, the extended Nettleton family had farm property near Lee Road. In the fall of 1895, when the Stockbridge Golf Course was officially formed, Walter E. Nettleton was its first president. Earlier that same year the artist contributed a series of illustrations to The Quarterly Illustrator for an article on the French town in Brittany "Le Faouet and its Patron Saint" written by Robert Ranger. Below are two illustrations from that article.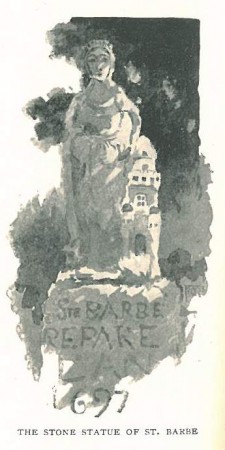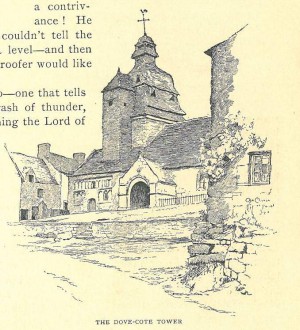 Among the more famous artists and illustrators in Stockbridge at that time were various members of the Emmet family and some of their friends. Lydia Emmet Field (1866– 1952) and Rosina Emmet Sherwood (1854-1948) were sisters and daughters of the artist-illustrator Julia Colt Pierson Emmet(1829-1908) who was probably Rosina's earliest art instructor. Rosina Emmet Sherwood's illustrations appeared in Harper's magazines., Rosina Emmet produced wonderful line-drawn illustrations. The illustration below on the left, The farewell of the cow, rabbit, and kangaroo, was created for a story in Harper's Young People in 1886. On the right is an illustration called Miss Cloud and Miss Sunbeam reproduced in 1888 in Harper's Third Reader. I admire Rosina Emmet's economy of line and her delicacy of tone. The Log House on Yale Hill (at number 24) was Rosina's country residence.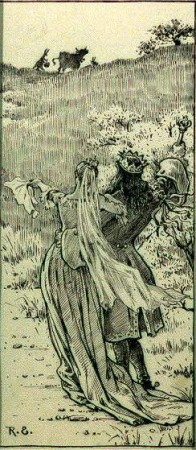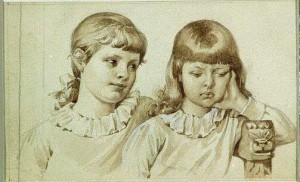 Lydia Emmet Field is perhaps the best known of this family of artists. In addition to doing illustrations, Lydia Emmet Field also painted murals and created designs for stained glass windows for Tiffany & Co. Best known as a portraitist, Lydia Emmet Field lived at 28 Yale Hill, in a house called Strawberry Hill. Her portraits exhibit the same delicate touch as her sister's work, and according to some accounts it was likely that Rosina Emmet was Lydia's initial teacher. Below left is her illustration of The Shepherdess and the Chimney Sweep published in Harper's Young People in 1891 and at right is her 1891 illustration, Mistress Mary Quite Contrary.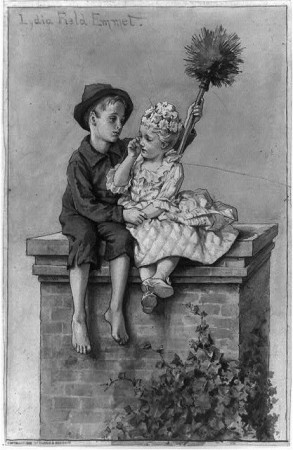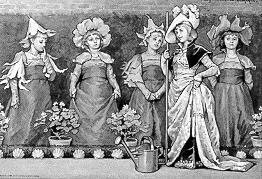 Number 26 Yale Hill was known as Hillfields, the home of Lydia Field Emmet's friend and fellow artist, Maria O. Kobbé (b. 1870). This was one of the residences that benefited from the assistance of Daniel Chester French with it garden. Although Kobbé was primarily a portrait painter, I found a very sweet image of an illustration she created, shown below. Called, Nansen and his companion attached by polar bears and dated 1897-98, it reveals considerable understanding of and sympathy for childhood entertainments. Notice that Nansen's companion is the rag doll propped up inside the basket while the polar bears are the younger children crawling on the floor. Kobbé shares the Emmet sisters economy of line and delicacy of shading to create this sweet image.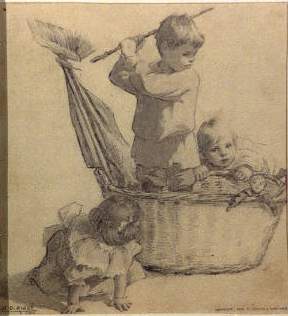 Rosina and Lydia's cousin Ellen Emmet Rand, another portrait painter, never lived in Stockbridge, but I am including an image below of an oil portrait she did of one of her teachers from the same time period: Frederick MacMonnies in his Studio, painted c. 1898. Ellen did also create illustrations for Vogue magazine and for Harper's Weekly and Harper's Bazaar. In a copy of a 1917 exhibition catalog, I found listed among the portraits on display at Durand-Ruel Galleries in New York, one of Mrs. Prescott Hall Butler, the wife of another Stockbridge person.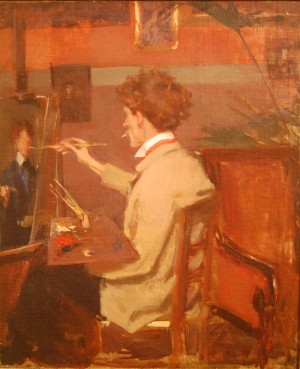 Stockbridge also hosted The Three Arts Society represented by of resident Walter L. Clark—a businessman and an artist–*; sculptor Daniel Chester French; psychiatrist Austen Fox Riggs, journalist; eventually the editor of Vanity Fair Frank Crowninshield; and–professor of playwriting at Yale University–Walter Prichard Eaton. It was Clark, French, and Riggs who played the central role in the founding of the Berkshire Theatre Festival in Stockbridge.
* Walter L. Clark and John Singer Sargent founded the Grand Central Art Galleries in New York as a cooperative gallery for artists.
June 16, 2014
By Joyce K. Schiller, Curator, Rockwell Center for American Visual Studied, Norman Rockwell Museum