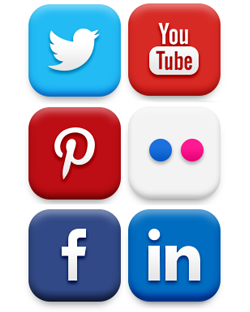 Stockbridge, MA, November 11, 2013— Norman Rockwell Museum's Four Freedoms Forum series returns on Thursday, November 14, at 5:30 p.m., with a look at the popularity of social media. The town hall meeting will examine the pros and cons of social media, and whether it serves as an effective tool for change or is merely a "flash in the pan." Featured speakers will include Tammy Daniels, managing editor for iBerkshires.com; Laura Lofgren, online editor for "The Berkshire Eagle;" Kelly Bevan McIlquham, founder of the website, Berkshire Family Focus; and Eugenie Sills, a consultant specializing in social media strategy and content. Community conversation at the Four Freedoms Forums is free and open to the public.
About The Speakers:

Tammy Daniels is the managing editor of iBerkshires.com, a website devoted to covering issues related to politics, education, community events, and breaking news throughout Northern Berkshire and Southern Vermont. She is a graduate of the Massachusetts College of Liberal Arts.
Laura Lofgren is the online editor for "The Berkshire Eagle," where she also serves as a frequent contributor. She joined the newspaper in August 2011, as a page designer for the "Eagle" and its sister publication "The North Adams Transcript." A graduate of Kent State University with a bachelor's degree in magazine journalism, she was the managing editor of the school's "Artemis" magazine, as well as a features editor, copy desk chief and part-time designer for the school's newspaper, "The Daily Kent Stater."
Kelly Bevan McIlquham is the founder of Berkshire Family Focus, a website promoting family-oriented activities in the Berkshires of Massachusetts. Born and raised in the Berkshires, she has served as a journalist for numerous publications and currently writes the blog Renaissance Mom about "stumbling through parenthood."
Eugenie Sills is a consultant with TWT Media, helping clients to develop, implement and measure social media strategies with a focus on content. She honed her social media skills at Columbia University's Graduate School of Journalism, where she continues to keep abreast of best practices. Prior to establishing TWT Media, Sills was the founder and publisher of the award-winning magazine, "The Women's Times," and produced the first ride-film written by special effects pioneer Douglas Trumbull.
About Four Freedoms Forums:
Town Hall Meetings at the Norman Rockwell Museum

Join us to share your thoughts on the most compelling issues of our day. This series of Town Hall conversations inspired by Norman Rockwell's Four Freedoms paintings will explore aspects of our democracy and important social concerns in a rapidly changing and increasingly global world. Noted commentators will offer observations and inspire community discourse, with a reception to follow.
The tradition of Town Hall meetings has it roots in the founding of our nation where small New England communities would gather to invite citizen opinion and vote on matters of importance to the town. A town meeting is a form of direct democratic rule, used primarily in portions of the United States since the 17th century, in which most or all the members of a community come together to legislate policy and budgets for local government.
The Four Freedoms Forums are free and open to the public.