Career Retrospective of the Inspired Artist/Son of Norman Rockwell On View July 13 through October 20, 2013


Stockbridge, MA, June 27, 2013— A singular and visionary image-maker, Jarvis Rockwell, the eldest son of illustrator Norman Rockwell, has forged a path in art that is uniquely his own. This summer, Norman Rockwell Museum explores the continued artistic legacy of the Rockwell family, shining a spotlight on Jarvis Rockwell's more than 60 years of creative exploration. "Jarvis Rockwell: Maya, Illusion, and Us" is on view July 13 through October 20, 2013.
"Jarvis Rockwell: Maya, Illusion and Us" reveals the depth and evolution of the artist's work—from the early portraits and drawings of his youth, to more recent structural works and assemblages. The retrospective includes a documentary on the artist by filmmaker Rachel Victor; and selections from Rockwell's extensive toy collection, installed on "Maya V," a vast, whimsical pyramid inspired by Hindu temples and sculptural deities.
Visitors also are encouraged to visit the Museum through the summer and fall to watch the evolution of an in-process wall drawing that will be created on site while the exhibition is on view, with surprise appearances by Jarvis Rockwell himself. The artist also will provide commentary during a special exhibition opening at Norman Rockwell Museum on Saturday, July 13, from 6 to 8:30 p.m.
"I was 22 years old when I first met Jarvis Rockwell," notes Norman Rockwell Museum Director/CEO Laurie Norton Moffatt. "Jarvis was already widely regarded in the community as an artist, famed for his string installations, ephemeral environmental performance installations, and fantasy drawings. He was a contemporary conceptual artist seeking his voice; working as distantly as possible from his father's narrative, idealized painting style, yet evidencing the same exacting hand and eye for the smallest details of daily life. We are deeply honored to welcome Jarvis home to Stockbridge, to invite him to take his place and stand side by side with his father through this imaginative installation of his life's work."
On the topic of his famous father, Jarvis Rockwell recently remarked that "it's funny now that his art was called realism; people called it realism because that is what they saw. But it was a constructed reality, a fantasy…. My work with toys comes off of that. The toys have to do with us, just as my father's work had to do with us. I think I'm just taking a different turn on who we are. I chose the road less traveled, and it has made all the difference."
Order the exhibition catalog
here: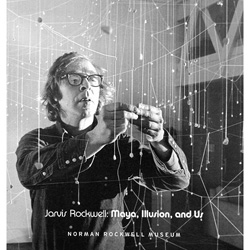 About The Artist

For Jarvis Rockwell (born 1932), art has always been integral to life. His father was the nation's most prominent illustrator, and his mother, Mary Barstow Rockwell, enjoyed drawing, painting, and experimenting with sculpture. At an early age, he began to draw, encouraged by both his parents. Sketching portraits of neighbors and friends in Arlington, Vermont, and taking classes at New York's Art Students League and National Academy of Design, prepared him for the art assignments he would assume during the Korean War. He went on to study at the Boston Museum School and Los Angeles County Art Institute and has continued his artistic explorations ever since.
His work has been included in several exhibitions, including MASS MoCA and the New Museum of Contemporary Art in New York.
Rockwell began collecting action figures in 1979 and since then his collection has grown by hundreds of pieces per year. The artist finds fascination in mass-produced toys for their diversity of design, the fictional narratives that are established by their random intersections, and by the stories these icons of popular culture have to tell. After a decade of collecting, Rockwell began to create small groupings, articulating the relationships he saw between the figures, and arrange his tableaux in Plexiglass boxes. In 2001 the artist expanded on the concept with "Maya," a vast toy-embellished pyramid inspired by Hindu temples the artist witnessed during trips to Chennai and Delhi, India. This work "tells the story of us" through the artifacts of commercial culture, reminding us of the society's deepest longings and aspirations.

Exhibition-Related Programs
Exhibition Opening
Jarvis Rockwell: Maya, Illusion, and Us
Saturday, July 13, 6 to 8:30 p.m., with artist commentary at 6:30 p.m.
Fascinated by material culture and what the objects of mass production have to say about our lives, hopes, and longings, Jarvis Rockwell creates artworks that are at once tangible and transient, reflecting the impermanence of all things. Imbued with a sense of mystery and spiritual curiosity, his sensory structure drawings, Hindu-inspired pyramids assembled with hundreds of toy figurines, and tableau boxes will be on view in this first retrospective of the artist's work― an exploration of his artistic journey and the ideas and questions that continue to drive his work. A documentary film about the art of Jarvis Rockwell by filmmaker Rachel Victor will also be featured. Reception follows with refreshments and a cash bar. Members free, guests $20. RSVP: 413.931.2221 or rsvp@nrm.org

Artist Talk
Maya and Beyond: An Evening with Jarvis Rockwell
Thursday, August 15, 5:30 p.m.

The son of famed illustrator, Norman Rockwell, Jarvis Rockwell is a skilled draftsman and a visionary image-maker who began collecting action figures in 1979. Since then, his collection has grown by hundreds or thousands of pieces per year, and while he appreciates their diversity of design, he is more fascinated by the fictional narratives that are established by their random intersections. The artist will join us to discuss his art and particular passion for the world of toys. Free with Museum admission, members free.
Young Artists Workshop
Art and Imagination: Creative Toys With Artist/Educator Nova Rockwell
Monday through Friday, July 22 through 26, 10 a.m. to 3p.m. Ages 7 to 12

Let the world of play inspire your creativity! Jarvis Rockwell's love of toys will be a springboard for innovation, as children explore the world of the imagination through drawing, painting, and the creation of toys of their own. The artist himself will be a part of this unique artistic experience. Nova Rockwell is an accomplished artist and educator, and Jarvis Rockwell's wife. $175, $150 members. Extended day until 5 p.m., $50 per week. Call 413.931.2221 to register.