While our name is still the Norman Rockwell Museum, we are also, as our subtitle says a home of American illustration art. The subtitle says it all. Our collections of American illustration art are growing and are rather diverse. From illustrations by James Montgomery Flagg and Charles Dana Gibson, to work by some perhaps more obscure names in the world of American illustration art (William J. Aylward, Fred Eng, Robert Lynn Lambdin, and Philip W. Prugh).
In 2010 the museum was the recipient of a large gift of study drawings by the turn-of-the-century painter and teacher, George B. Bridgman (1865-1943).  Bridgman was an important teacher of figure drawing and anatomy at the Art Students League in New York City. Bridgman focused on the young student's need to acquire sufficient skill rendering the human figure in a realistic manner so that they could then do whatever they chose with their paintings. Throughout his successful career as an illustrator, Norman Rockwell believed that it was Bridgman's teaching those rigorous technical skills with regards to the human figure that were the foundation of his work.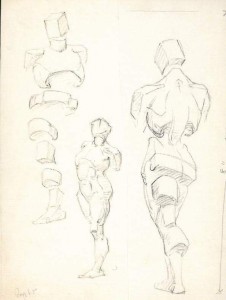 Bridgman not only taught the students in his classes, he also produced a series of books and illustrated drawing manuals that conveyed his figure and anatomy lessons.
The Norman Rockwell Museum is proud to hold in its American illustration collection over 100 drawings by George Bridgman that were a gift to the museum by the Blakeman Family in 2010. From 2012 through 2013 more than a quarter of these drawings were conserved by the Williamstown Art Conservation Center through a grant awarded to the museum by the IMLS (the Institute of Museum and Library Services). Some of the museum's Bridgman drawings were used in his various books. They provide scholars and curators an unparalleled resource for how Bridgman's lessons were constructed and how he taught figure drawing in the classroom and through his books.