New Perspectives on Illustration is an engaging weekly series of essays by graduate illustration students at MICA, the Maryland Institute College of Art. Curators Stephanie Plunkett and Joyce K. Schiller have the pleasure of teaching a MICA course exploring the artistic and cultural underpinnings of published imagery through history, and we are pleased to present the findings of our talented students in this weekly blog.The Memory of Lianhuanhua by Diyou Wu explores the traditional Chinese art of Lianhuanhua―palm-sized illustrated stories that emerged as a popular art form in the early twentieth century Shanghai.

The Memory of Lianhuanhua

An Essay by Diyou Wu

Lianhuanhua, literally "serial pictures", means "little character's book"; it was a major traditional Chinese art form, developed at the beginning of the twentieth century in Shanghai. Lianhuanhua is described as palm-size in a three by five inch picture book with sequential illustrated stories. The introduction of western printing technology and Japanese manga in the late nineteenth century, reveal that Lianhuanhua is similar to the comic-strip stylebooks of Western cartoons, comics, graphic novel and Japanese manga. (

[1].Wong, Wendy Siuyi. [2002] (2001) Hong Kong Comics: A History of Manhua. Princeton Architectural Press. New York.)

Some historians believe that Lianhuanhua appeared in earlier ancient China, such as the Five Dynasties and Ten Kingdoms period (907–960/979 AD). For example an artist called Gu Hongzhong (937~975 AD) drew five linked drawings to depict scenes of evening banquet. [10]. The Private Realm of the Literati. University of Washington: A Visual Sourcebook of Chinese Civilization. Retrieved 27 August 2012.)

Night Revels of Han Xizai, drew by Gu Hongzhong, Southern Tang of Five Dynasties, silk canvas, 28.7cm x 335.5cm, collected by Museum of The Forbidden City.
Although Western cartoons or comics and Japanese manga inspire the form of Lianhuanhua, it has a its own unique artistic style which uses a traditional Chinese line drawing technique. Chinese line drawing, also called "Gong-bi", uses precisely detailed ink strokes in progressively thinner lines to depict the narrative figures. [9]. China Culture Qiu Ying, Shen Quan. 2012.) Over the years, many Lianhuanhua artists have developed and changed the "Going-bi" style into the simple, contemporary art style, but they still draw subjects based on using lines.
At the beginning, Lianhuanhua was called "chapter pictures book" among the people at the end of nineteenth century. Most of them were found individually in different art journals, magazines and newspapers the time. Shanghai World Bookstore documents the first official Lianhuanhua book, The Story of Three Kingdoms, which was illustrated by Chen Danxu and published by Shanghai World Bookstore; thus the name of "Lianhuanhua" became the definition in 1925.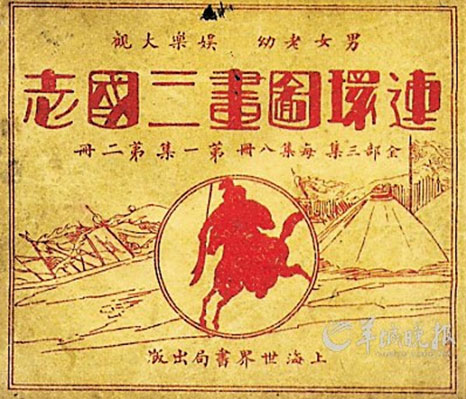 The Story of Three Kingdoms, illustrated by Chen Danxu, 1925, published by Shanghai World Bookstore.
Chen Danxu became the first Lianhuanhua illustrator in China who inspired the majority Lianhuanhua illustrators who came after him. At the same time, Shanghai World Bookstore published another five Lianhuanhua books by Chen Danxu, including The Story of Three Kingdoms; these six books are all based on the Chinese classic novel. And because the scale of Lianhuanhua books resulted in their price were cheaper than the original novels. ([3].Xie, Shuyi. 1999.)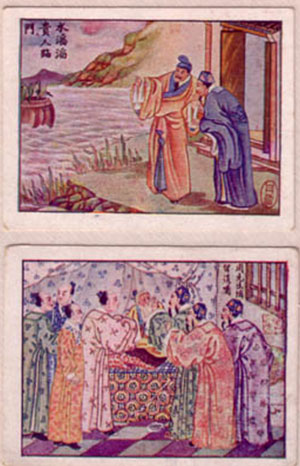 "Shuo Yue" illustrated by Chen Danxu, 1927, published by Shanghai World Bookstore
This inexpensive art form of picture books attracted a larger audience base consisting of middle and lower-income readers. Suddenly, Chen Danxu's books were very popular and mass reproduced many times. ([5]. Zhongguo Xiandai Meishu Quanji, ed. 1998.)
Since 1930s, Lianhuanhua books frequently took their stories from classic novels, traditional fiction, Chinese folklore, Chinese mythology, historical events, Chinese martial arts, literature, and even religion doctrine. A group of artists found their favorite ways to draw Lianhuanhua books for the varied audience. Lianhuanhua books also targeted the children's market with educated stories and fairy tales. Interestingly, some Lianhuanhua books focus on portraying opera or theatre; the characters are usually depicted in opera costumes and scenes from the stage. They seem like movie scenes, as the book Arrest of the Orchid by Shen Manyun. ([2]."Literature in Line: Lianhuanhua Picture Stories From China.")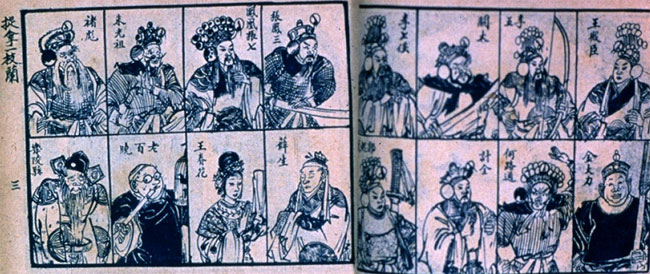 Arrest of the Orchid (Cases of Magistrate Shi), illustrated by Shen Manyun, published by Shanghai: Fuji Book Company, 1949. 2 volumes. 10.2 x 13.2 x 6 cm.
Shen Manyun (1911~1978) is one of the most important Lianhuanhua illustrators documented in Chinese art history. He preferred creating Chinese martial-arts and historical stories in Lianhuanhua books; he was famous for his impressive storytelling ability, and he was proficient in depicting the characters in a exaggerated and hilarious way; furthermore, he separately arranged the composition of pictures and texts are considered to let the reader's mind clearly understand the story. The 1950s and 1960s, the golden age of Lianhuanhua; by then the books could be purchased everywhere as "street books". People were fascinated by the easily-carried, palm-size storybooks. China's Communist cultural program officially identified the immensely popular genre of Lianhuanhua, in the 1950s, and it became a way to disseminate political and education propaganda. Therefore, the illustrators changed the style to look rough and realistic; they gradually concentrated on discussing working class propaganda, especially in praise of Communist Party. While, it was difficult for Shen Manyun to combine his exaggerated artistic style with the new realistic style, which showed on workers, peasants and soldiers. As a result, in 1949, he left the stage of Lianhuanhua and gave up his art career and finally he died in 1978. ([6].Lianhuanhua Pictures. "Lianhuanhua Pictures." Literature in Line: Lianhuanhua Picture Stories from China. Retrieved on 2007-04-04.)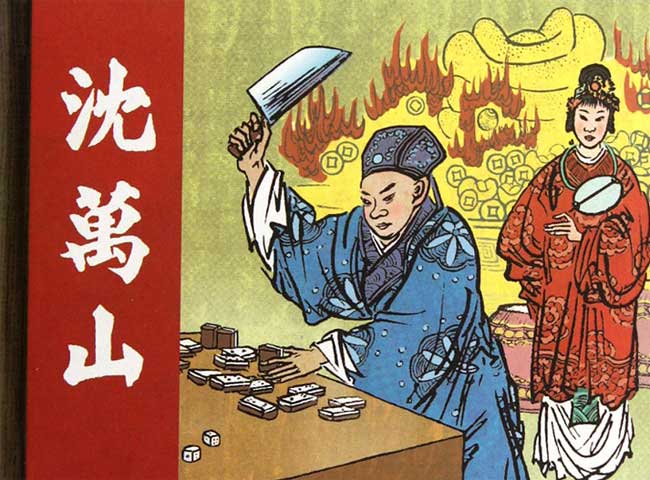 Shen Wanshan, illustrated by Shen Manyun, 1928, published by Shanghai People's Fine Arts Publishing House.
Another gifted artist, Feng Zikai (1898~1975), was the first person to introduce the simple cartoon and comics-style instead of only using the traditional Chinese "Going-bi" technique in his Lianhuanhua books. He was highly influenced by the famous Japanese-trained educator Li Shutong (1880~1942) who was a Buddhist and eventually became a monk; therefore, many themes of Buddhism illustrations can be found in Feng's work. He also studied art and music in Japan after graduation from further studies, the experiences in Japan made him open-minded and allowed him to develop a different artistic style. When he came back to China in the conservative period of the 1920s and 1930s, he became an art teacher in Shanghai. The new cartoon style of using palette and swift line-work; is also reflected the effects of woodblock printing, which improved upon the old classical strategy. His artwork inspired a cultural movement that revolutionized Chinese mainstream culture and deeply influenced the development of Chinese modern esthetics. Mostly Feng focused on illustrating children's books. He was good at using a simple and casual style to depict social observations that conveyed deep and meaningful messages and educational stories. Incredibly, he preferred to write the short stories and poems by himself in his picture books; thus he was also a respectable writer and essayist. From his Lianhuanhua books, his audience could experience purity, tranquility, innocence and calm. ([8]. "Feng Zikai." – China Culture.)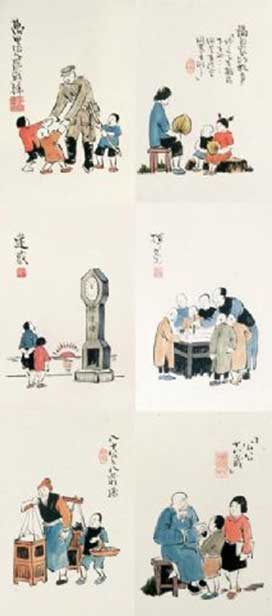 The ways of the world (album of 13 leaves), illustrated by Feng Zikai, 1946, ink and color, 13 x 8,7 in/ 33 x 22 cm.
Unfortunately, during China's the most political sensitive period, from 1960 to 1970 (Cultural Revolution), Lianhuanhua was identified as a unsophisticated and uneducated art form. Many artists including Feng Zikai were disparaged and denounced by the state untill his death in 1975. But his artwork and essays are still popular with the general public till now. With the mass production of Lianhuanhua, the quality of publication and creation gradually worsened, and the colors and styles were close to flat and boring. By the end of 1960, Lianhuanhua had gradually disappeared. ([1]. China.org.cn. " Allure of illustrated booklets. Retrieved on 2011-12-13)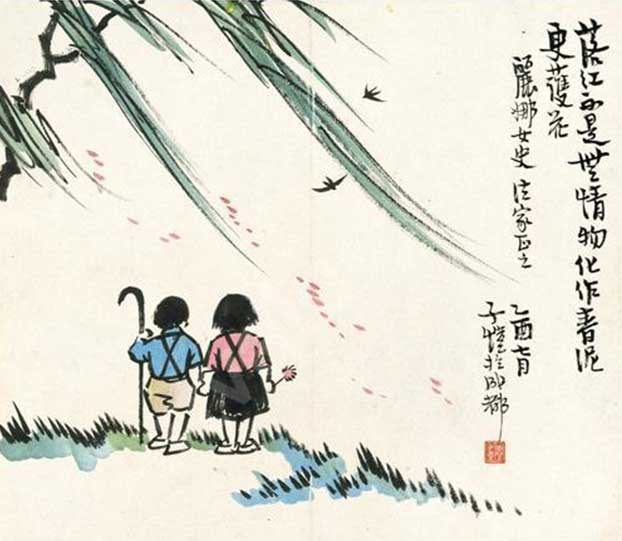 Falling Petals, illustrated by Feng Zikai, i1945, Ink and color on paper
After the 1970s, the Communist Party decided to take advantage of Lianhuanhua as a means of revolutionary propaganda. In this period, Lianhuanhua mostly depicted the positive characters needed to construct the Chinese Communist Party, Chairman Mao's words, and the theory of socialism. Thus, Lianhuanhua went through a second golden age from 70s to 80s. The illustrators of creating Lianhuanhua were treated as important to the state, and the quantity of production was more than twenty times the amount of 1960s. Different kinds of stories and styles grew at a fast pace during this period. But after 1985, the introduction of media and television were profound popular to the public; western comics and animation easily attracted young people; all forms of mass media captivated the public's entertainment life. Consequently, Lianhuanhua was slowly usurped by the new technology. Only a few of the classical Lianhuanhua books were republished because particular collectors demanded it in the 1990s. ([5].Zhongguo Xiandai Meishu Quanji, ed.)
Nowadays, young artists no longer value this art form. The marketplace and creation of Lianhuanhua books has fallen into a lowest valley. But people can still have a look at those masterpieces in museum and gallery exhibitions. And people today still look for and collect them as a valuable memory.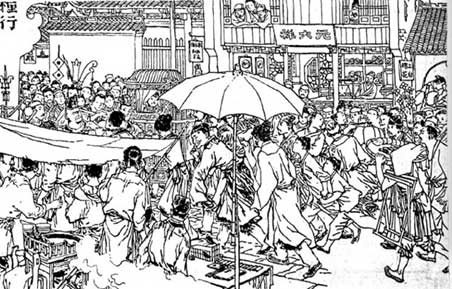 Fifteen Strings of Cash (Shiwu Guan), illustrated by He Youzhi, 1979, ink on paper, 14.4 x 23 cm
Bibliography
[1]. "Lianhuanhua." Wikipedia. Wikipedia Foundation, 17 Oct. 2012. Web. 19 Nov. 2012.
< http://en.wikipedia.org/wiki/Lianhuanhua > [2]. "Literature in Line: Lianhuanhua Picture Stories From China." Literature in Line: Lianhuanhua Picture Stories From China. N.p., n.d. Web. 19 Nov. 2012.
. [3]. Xie, Shuyi. Dang Dai Lian Hua Hua Jing Pin Ji: Xie Shuyi. Jinan: Shandong Mei Shu Chu Ban She, 1999. Print. [4]. Hu, Yang. "Chinese Comics Good Investment Choice." Biz News Flash (2011): n. pag. Chinadaily.com.cn. Web. 19 Nov. 2012.
. [5]. Zhongguo Xiandai Meishu Quanji, ed. Zhongguo Xiandai Meishu Quanji. Beijing: Zhongguo Lianhuanhua Chubanshe, 1998. Print. [6]. "Lianhuanhua Listed by Year." Wikipedia. Wikimedia Foundation, 06 Jan. 2012. Web. 19 Nov. 2012.
. [7]. Krischer, Olivier. "The Art of Feng Zikai." ArtAsiaPacific: The Art Of Feng Zikai Feng Zikai. N.p., n.d. Web. 04 Dec. 2012.
. [8]. "Feng Zikai." – China Culture. N.p., n.d. Web. 06 Dec. 2012. [9]. Cultural China. "Gongbi Painting – Chinese Traditional Painting with Meticulous Detail." – China Culture Qiu Ying, Shen Quan. N.p., n.d. Web. 12 Dec. 2012.