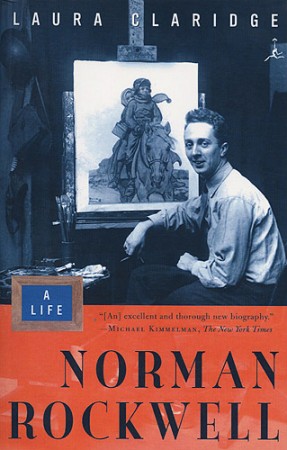 Stockbridge, MA, July 2, 2014—Noted author Laura Claridge will present a talk about her 2001 biography, Norman Rockwell: A Life, at Norman Rockwell Museum on Thursday, July 10, starting at 5:30 p.m. The talk is being presented as part of the lecture series, "Impossible Craft: The Artist's Biography," to be held Thursday evenings at the Museum during the month of July.
In Norman Rockwell: A Life, Laura Claridge presented one of the first comprehensive looks at Rockwell's work and life. Based upon previously unpublished family archives, extensive interviews, and research conducted at Norman Rockwell Museum, the biography offered a unique look at the disparity between the artist's public image and his private life. Claridge will discuss her process of working on the book, and how the artist's work is now seen in a more positive light by a new generation of art critics; a book signing will follow. The talk is free for Museum members, or with regular Museum admission.
About Laura Claridge
Known for her biographies of major twentieth century figures, Laura Claridge has written books ranging from feminist theory to popular culture. Her most recent book, Emily Post: Daughter of the Gilded Age, Mistress of American Manners (2008) received a National Endowment for the Humanities grant, and the J. Anthony Lukas Prize for a Work in Progress, administered by the Nieman Foundation for Journalism at Harvard and the Columbia University Graduate School of Journalism. She is currently working on Blanche, the biography of publisher Blanche Knopf.
In addition to books, Ms. Claridge has been a frequent writer and reviewer for the national press, appearing in such newspapers as The Wall Street Journal, Vogue, The Boston Globe, Los Angeles Times, and the Christian Science Monitor.
Born in Clearwater, Florida, Claridge received her Ph.D. in British Romanticism and Literary Theory from the University of Maryland in 1986. She taught in the English departments at Converse and Wofford colleges in Spartanburg, SC, and was a tenured professor of English at the U.S. Naval Academy in Annapolis until 1997. She and her husband live in New York's Hudson Valley. Learn more about the author at www.lauraclaridge.com
Impossible Craft: The Artist's Biography
Thursday Evenings in July, 5:30 p.m.
The biography of an artist is an influential document that offers insights into the subject's personality, intentions, and influences. This series of conversations with artist's biographers explores the intricacies of this time-honored craft. A book signing with the authors will follow. Free with Museum admission; free to members. Sponsored in part by Carl and Eunice Feinberg.
July 17: Cecilia Beaux: A Modern Painter in a Gilded Age
An evening with Cecilia Beaux biographer, Alice Carter.
July 24: Edward Hopper: An Intimate Biography
An evening with Edward Hopper biographer, Gail Levin, Ph.D.