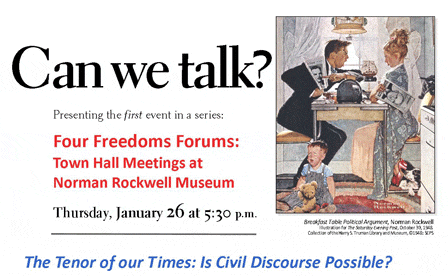 Can we talk, really? What will it take to inspire collegiality and joint decision-making for the public good? Share your thoughts in a stimulating discussion with a compelling panel of experienced commentators.
To launch our discussion, brief presentations will be made by:
Representative William "Smitty" Pignatelli
Democratic member of the Massachusetts House of Representatives, 4th District
Tammy Daniels
Managing Editor of iBerkshires.com
Dr. Asma Abbas
Associate Professor of Political Science & Philosophy, Bard College at Simon's Rock
Moderated by:
Laurie Norton Moffatt
Director/CEO, Norman Rockwell Museum
Join us for a community conversation about the nation's most pressing topics.
Free and open to the public. Reception will follow. RSVP's encouraged.
Download the Four Freedoms Forum flyer here
Future Four Freedoms Forums will be held on Thursdays, January 26, February 23, March 29, and April 26
5:30 p.m.
General Information on the Four Freedoms Forums:
This series of Town Hall conversations inspired by Norman Rockwell's Four Freedoms paintings will explore aspects of our democracy in a rapidly changing and increasingly global world. Noted commentators will offer observations and inspire community discourse, with a reception to follow. Free.