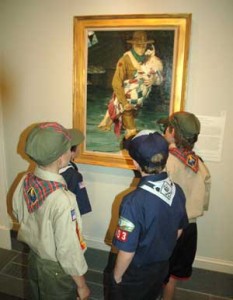 As a young artist, one of Norman Rockwell's first high-profile jobs was being commissioned by the Boy Scouts of America to illustrate its "Hike Book" in the fall of 1912; shortly after, Rockwell was appointed art editor of "Boy's Life" and went on to create memorable cover and story illustrations for the youth development organization's publication. Grateful for this opportunity and early exposure, Rockwell maintained a 64 year association with the Scouts, generating close to 500 images for the organization's calendars, magazine covers, stories, recruiting posters, and guidebooks. This year marks the 100 year anniversary of The Boy Scouts of America, and Norman Rockwell Museum will present a special afternoon celebrating the organization and its long-time connection to Norman Rockwell, on Saturday, October 23, from 12 to 4 p.m.
The afternoon kicks off with an appearance from James A. "Buddy" Edgerton, Norman Rockwell's next-door neighbor in Arlington, Vermont during the 1940s and early 1950s. Edgerton, who posed for many of Rockwell's best-known Boy Scouts images, will be joined by author Nan O'Brien to discuss their book "The Unknown Rockwell: A Portrait of Two American Families," with a book signing to follow. At 2 p.m., meet official Boy Scouts artist Joe Csatari and his son, "Men's Health" editor Jeff Csatari, who will present an illustrated talk and discussion about their recent book "Norman Rockwell's Boy Scouts of America;" Joe Csatari will share his memories of working with Rockwell during his early years with The Boy Scouts. Special gallery talks and a discussion of the exhibition "Norman Rockwell and The Boy Scouts of America" will be provided throughout the day, and Scout troops will have the opportunity to earn their own Rockwell Award Patch through a number of challenging art activities. Admission to the event is $20 per scout troop, and free for all others with regular Museum admission. For more information, please call 413.298.4100.
"Norman Rockwell and The Boy Scouts of America"
Through November 27, 2010
2010 is the 100th anniversary year for The Boy Scouts of America. When the organization was still in its infancy, Norman Rockwell became one of their key illustrators, an important early achievement for the young man fresh out of art school. His first assignment for the Boy Scouts was to create pen and ink drawings for their "Hike Book" in the fall of 1912. Shortly after, at the age of 19, Rockwell was appointed art editor of "Boys' Life" magazine, a post that required him to create imagery for the publication and supervise work delegated to other artists.
As his style matured and the Rockwell name became known, he was hired by outside publishers to compose illustrations for children's books and periodicals. When his tenure began with "The Saturday Evening Post" in 1916, Rockwell left the salaried position at "Boys' Life," but continued to include Scouts in "Post" cover images and the monthly magazine of the American Red Cross. He resumed work with the Boy Scouts in 1924 with the production of his first of 51 annual images for Brown and Bigelow's highly successful Boy Scout calendar. His connection to the group spanned 64 years, marking the longest professional association of his career.
Drawing upon the Norman Rockwell Museum's archival collections, this installation offers a glimpse into the artist's body of work for The Boy Scouts of America.