NORMAN ROCKWELL'S 323 "SATURDAY EVENING POST" COVERS
For nearly 50 years, millions of Americans brought Norman Rockwell's art into their homes, enjoying the artist's Saturday Evening Post covers while seated in their favorite chairs, surrounded by their belongings in the company of their families. This intimate connection with Rockwell's art made his images a part of the fabric of American lives. This comprehensive exhibition of original Saturday Evening Post cover tear sheets features each of Norman Rockwell's illustrations for the publication, created between 1916 and 1963.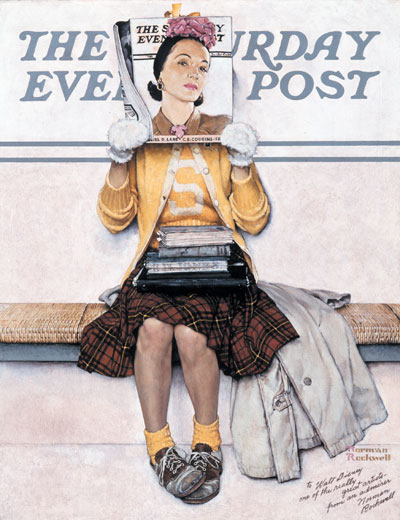 Norman Rockwell (1894-1978), Girl Reading the Post, 1941. Cover illustration for The Saturday Evening Post, March 1, 194. From the collection of Norman Rockwell Museum. © 1941 SEPS: Curtis Licensing, Indianapolis, IN. All rights reserved.
Born in New York City in 1894, Norman Rockwell always wanted to be an artist. At age 14, Rockwell enrolled in art classes at The New York School of Art (formerly The Chase School of Art). Two years later, in 1910, he left high school to study art at The National Academy of Design. He soon transferred to The Art Students League, where he studied with Thomas Fogarty and George Bridgman. Fogarty's instruction in illustration prepared Rockwell for his first commercial commissions. From Bridgman, Rockwell learned the technical skills on which he relied throughout his long career.
Rockwell found success early. He painted his first commission of four Christmas cards before his sixteenth birthday. While still in his teens, he was hired as art director of Boys' Life, the official publication of the Boy Scouts of America, and began a successful freelance career illustrating a variety of young people's publications.
RELATED EVENTS
January 18 @ 1:00 pm
-
2:00 pm
January 20 @ 11:00 am
-
5:00 pm
February 14 @ 1:30 pm
-
3:00 pm