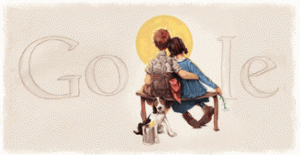 Once again, Norman Rockwell is everywhere! Last week internet search giant Google paid tribute to the illustrator's 116th birthday (born February 3, 1894) by modifying it's homepage banner to include one of the artist's many iconic images. The banner, one of the company's ongoing "Google Doodles," featured Rockwell's April 24, 1926 Saturday Evening Post illustration Boy and Girl Gazing at Moon (Puppy Love). Also known as Little Spooners, the popular cover illustration features a young boy and girl and their dog sitting on a bench, watching the sunset— for the "doodle," the setting sun stands in for one of the "o's" in the word Google.
The banner generated an extraordinary amount of international interest, with articles about the doodle appearing in such media as The Huffington Post, The Christian Science Monitor, and UK papers The Guardian, Telegraph, and The Daily Mirror. It also resulted in the temporary crashing of Norman Rockwell Museum's Web site, which received over three million hits (about 10 times the usual traffic) last Wednesday from curious Googlers and birthday well-wishers; traffic was noted from such regions as North America, Europe, Asia, The Middle East, and South America.
Over the past year, Google has created similar doodles for holidays, historic events, celebrity birthdays, and such milestones as the 40th anniversary of the TV show Sesame Street. The site is currently running a contest for the next generation of illustrators to design their own Google Doodle, incorporating the theme "If I Could Do Anything, I Would…" The "Doodle 4 Google" juried competition is open to students in grades K-12, with a registration date of March 17, 2010, and entries due by March 31, 2010; the winning doodle will be featured on the Google.com homepage on May 27, 2010.
Related story: http://www.berkshireeagle.com/ci_14329819