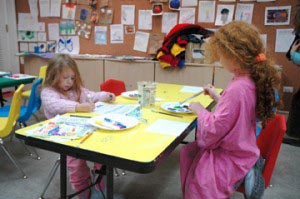 Norman Rockwell Museum shares the love during the month of February with a lively series of programs, events, and exhibitions. Highlights include drop-in art workshops during school vacation week, a special evening with noted photographer Kevin Sprague, and the opening of an exhibition of original Rockwell art and personal mementos, and the Annual Berkshire County High School Art Show.
Exhibition Openings
24th Annual Berkshire County High School Art Show
February 6 through March 7 Our annual showcase of artwork from Berkshire County's talented youth. Enjoy vibrant works from the region¹s next generation of artists. Sponsored by Legacy Banks.
"Norman Rockwell: The Making of an American Icon"
February 13 through June 20
Connect with Norman Rockwell through this in-depth exhibition featuring original artworks spanning the breadth of his career, and personal mementos and family photographs from the Norman Rockwell archives.
Workshops for Kids and Families
Paint Up a Storm!
School Vacation Week Workshops
Monday through Friday, February 15 through 19, 1 to 4 p.m.
Paint up a storm in this exciting program for budding artists. Children will experiment with a variety of painting media and techniques to create colorful, memorable works of art. Ages 7 and up. Take one or take them all. $6, $5 Museum members.
Note: The Museum will be open the entire school vacation week until 5 p.m., including Tuesday, February 16.
Got Ink? Creating a Graphic Novel
Teen Art Workshop
Saturday, February 20, 10 a.m. to 3 p.m.
Gifted educator/graphic novelist Tim Callahan will guide young cartoonists through the process of moving an idea from first frame to finished comic. Ages 13 and up. $8, $6 Museum members.
Programs for Adults and/or All Ages
The Artist & The Photograph: Contemporary Perspectives Saturday, February 27
Photographer Kevin Sprague explores contemporary pathways in the art of photography.   $10, $7 Museum members.