An exhibition organized by Norman Rockwell Museum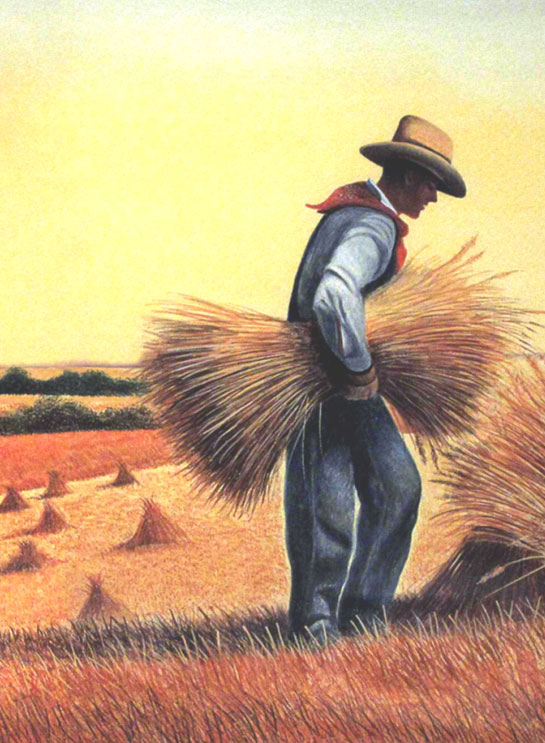 About the Exhibition
A good picture, like a good story, is timeless.
-Wendell Minor
Take a journey though history, from sea to shining sea, through the art of Wendell Minor, our nation's premier historical picture book illustrator. The artist's many children's books reflect for the environment. His travels have taken him from the tropical Everglades of Florida to Barrow, Alaska in the Arctic Circle; from the Midwest to the Grand Canyon in the Southwest; and throughout the United States to research his many nationally acclaimed books. Original artworks, drawings and references from Reaching for the Moon and Look to the Stars by Buzz Aldrin, Sitting Bull Remembers by Ann Turner, Abraham Lincoln Comes Home by Robert Burleigh, Arctic Son by Craighead George, Shane by Jack Schaefer, and America the Beautiful Katherine Lee Bates, amount many others, will be featured.
Image Left: ©Wendell Minor. All rights reserved.
©Wendell Minor. All rights reserved.
Wendell Minor
Wendell Minor is nationally known for the artwork he has created for over fifty award-winning children's books. His many collaborators include Jean Craighead George, Robert Burleigh, Buzz Aldrin, Tony Johnston, Mary Higgins Clark, and last but not least, his wife Florence. In 2009 Wendell and Florence's If You Were a Penguin, was chosen by Pennsylvania for their "One Book, Every Young Child" 2009 early literacy program, and they enjoyed the month they spent speaking to children in Pennsylvania's libraries, schools, Head Start facilities, and Museums.
Wendell is also the cover artist and designer of over two thousand books for authors Pat Conroy, David McCullough, Fannie Flagg, and Nathaniel Philbrick among many others. His portrait of "Truman" for the cover of David McCullough's book is in the permanent collection of the National Portrait Gallery in Washington DC
Complete Facts
Contents:
approx. 100 original works of art; intoductory and biographical panels and object/extended identification labels.
Insurance:
all risk fine arts, wall to wall
Security:
High, all works must be within sight of a trained security officer/staff member at all times during public hours.
Environment:
Light level 18 to 22 foot candles for paintings 5 to 7 foot candles for works on paper and other light restricted objects, humidity 50% plus or minus 5% and temperature 68-72 degrees, no direct sunlight and no direct contact with light fixtures or heating, air conditioning, ventilation, or electrical outlets.
Shipping:
air ride, climate controlled
Photos of the installed galleries for Wendell Minor's America
Venues Hosting This Exhibition
This exhibition is available for travel