Dancing Princesses: The Picture Book Art of Ruth Sanderson
An exhibition organized by Norman Rockwell Museum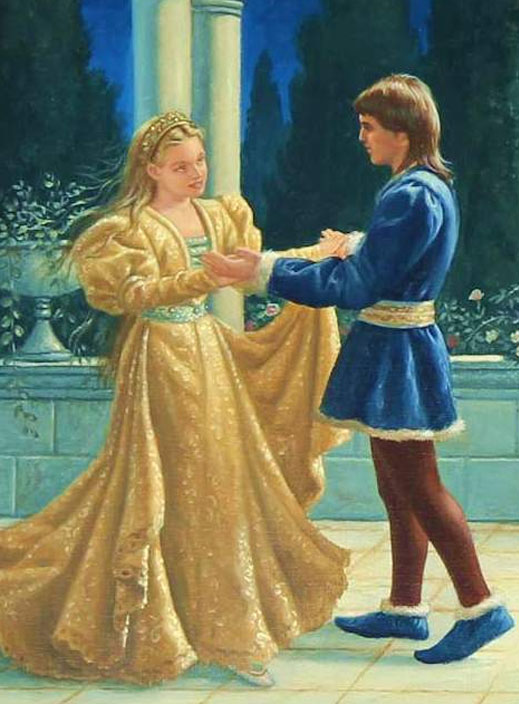 About the Exhibition
Stories about princes and princesses, and quests and bravery in the face of extraordinary odds, have remained an essential part of our culture's foundation, shared by parents and children for many generations. A renowned fantasy artist and illustrator of children's literature, Ruth Sanderson has created imagery for more than seventy-five picture books, many of which bring classic tales to life.
This special holiday installation, featuring more than sixty original illustrations for classic and original stories, includes her personal favorite—The Twelve Dancing Princesses. Now in the permanent collection of the Norman Rockwell Museum, Ruth's paintings and studies for this enchanting tale will be accompanied by the opulent costumes that she commissioned specifically for her work. Dazzling paintings for other princess-inspired books, including The Sleeping Beauty, Cinderella; The Golden Mare, The Firebird, and The Magic Ring; The Snow Princess, The Crystal Mountain; and The Enchanted Wood, an original story, are sure to delight in this magical exhibition.
Image Left: Truman ©Wendell Minor. All rights reserved.
Winter Princess ©Ruth Sanderson. All rights reserved.
Ruth Sanderson
Sanderson graduated from the Paier College of Art in Connecticut in 1974.
Sanderson is a member of the Society of Illustrators, the Society of Children's Book Writers and Illustrators, and the Western Massachusetts Illustrator's Guild.
The Library of Congress catalog includes more than 90 records of books by Sanderson (with multiple editions of some titles). The earliest were published in her mid-twenties: Grandma's Beach Surprise by Ilka List (G. P. Putnam's Sons) in 1975 and four including an edition of The Little Engine That Could in 1976. The latter was discussed at the time in terms of how the art reflected "the stereotypes of masculine strength and feminine weakness in vogue when it was written". She illustrated new editions of several young-adult novels in the Nancy Drew and Bobbsey Twins mystery series.
LC catalog credits Sanderson as a writer primarily for retelling fairy tales, along with some stories from the Bible or about Christmas or about saints. In the catalog her earliest works as a writer are two published in 1990, a retelling of "The Twelve Dancing Princesses" and an original fairy tale, The Enchanted Wood (Little, Brown, LCCN 90-45096).
Sanderson's illustrations have been described as evocative of the past but employing a "21st century approach to texture and brightness."
Complete Facts
Contents:
Approximately 65 original works of art; structural works and assemblages; introductory and biographical panels and object/extended identification labels are included in this exhibition. An exhibition catalogue and a 15 minute looped DVD interview with Jarvis Rockwell are also available.
Security:
High security is required and all works must be within sight of a trained security officer/staff member at all times during public hours.
Environment:
Lighting levels need to be 18 to 22 foot candles for paintings and 5 to 7 foot candles for works on paper and other light restricted objects. The level of humidity must be 50% plus or minus 5% with a temperature between 68-72 degrees. There can be no direct sunlight and no direct contact with light fixtures, heating, air conditioning, ventilation, or electrical outlets.
Space Requirements:
Approximately 2500 square feet of space is needed for this exhibition.
Venues Hosting This Exhibition
2017-Forward "Available for Travel"