William Steig: Love & Laughter
An exhibition organized by Norman Rockwell Museum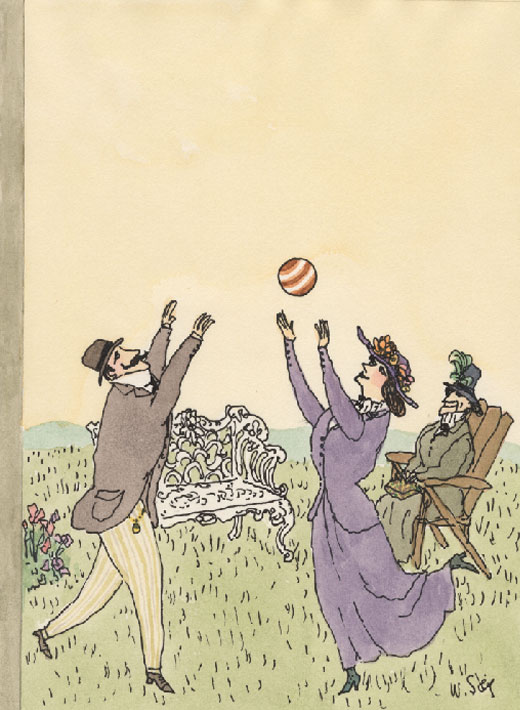 About the Exhibition
I think I feel a little differently than other people do. For some reason I've never felt grown up.
―William Steig
William Steig: Love & Laughter explores the richness of the artist's imagery―from his 1930s Small Fry series recalling the colorful Bronx neighborhood of his youth, New Yorker covers and cartoons, and symbolic drawings offering commentary on the human condition, to beloved picture books like Shrek!, the inspiration for blockbuster DreamWorks animated films. Love, laughter, and everyday life, emerge in intuitive drawings in which friends are giving and couples are loving, "just not every single minute." An astute observer of the world around him, the acclaimed King of Cartoons was captivated by children and had a deep affection for cats, dogs, and every manner of creature, evident in hilarious scenarios inspired by his ongoing speculations about what they might be thinking and what they would say or do―if only given the chance.
Image Left: ©William Steig. All rights reserved.
©William Steig. All rights reserved.
William Steig
William Steig (November 14, 1907 – October 3, 2003) was a prolific American cartoonist, sculptor, and, late in life, an illustrator and writer of popular children's books. Best known for the picture books Sylvester and the Magic Pebble, Abel's Island, and Doctor De Soto, he was also the creator of Shrek!, which inspired the film series of the same name. He was the U.S. nominee for both of the biennial, international Hans Christian Andersen Awards, as a children's book illustrator in 1982 and a writer in 1988
Hailed as the "King of Cartoons,"[5] Steig began drawing illustrations and cartoons for The New Yorker in 1930, producing more than 2,600 drawings and 117 covers for the magazine. Steig, later, when he was 61, began writing children's books.[6] In 1968, he wrote his first children's book. He excelled here as well, and his third book, Sylvester and the Magic Pebble (1969), won the Caldecott Medal.[7] He went on to write more than 30 children's books, including the Doctor DeSoto series, and he continued to write into his nineties. Among his other well-known works, the picture book Shrek! (1990) formed the basis for the DreamWorks Animation film Shrek.
In 1984, Steig's film adaptation of Doctor DeSoto directed by Michael Sporn was nominated for the Academy Award for Best Animated Short Film.
Also in 1984, Steig received the CINE Golden Eagle Award in Education.[8] for the film adaptation of this book.
Security:
high, all works must be within sight of a trained security officer/staff member at all times during public hours
Complete Facts
Contents:
approx. 200 original artworks; artifacts, reference materials and personally significant objects; documentary and reference photographs.
Environment:
light level 18 to 22 foot candles for paintings and 5 to 7 foot candles for works on paper and other light restricted objects. Humidy 50% plus of minus 5% and temperature 68-72 degrees, no direct sunlight and no direct contact with light fixtures or heating, air conditioning, ventilation, or electrical outlets
Space Requirements:
304.65 running feet or approx. 2588 square feet.
Shipping:
air ride, climate controlled
Venues Hosting This Exhibition
2017-Forward "Available for Travel"