Norman Rockwell in the 1960s
An exhibition organized by Norman Rockwell Museum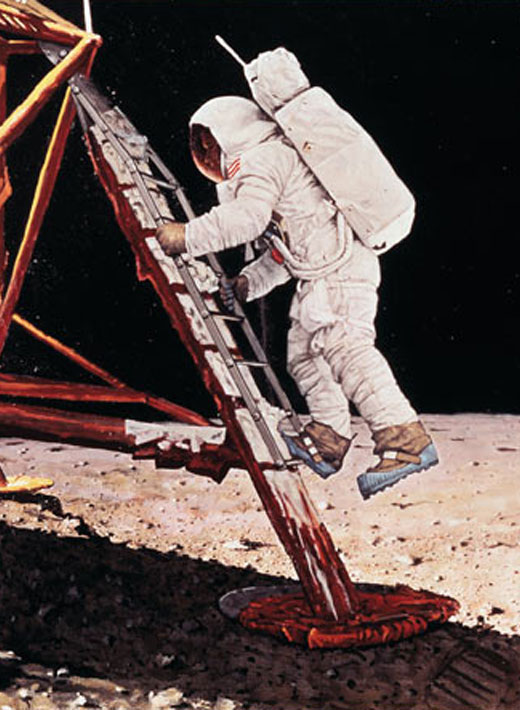 About the Exhibition
In 1963, after ending his forty-seven year association with The Saturday Evening Post, Rockwell began work for the reportorial magazine Look with a true sense of purpose. He invited consideration of important social issues and the space race, depicting the moon landing before and after it actually happened. The artist's 1964 painting, The Problem We All Live With, gently presents an assertion on moral decency. This first assignment for Look magazine was an illustration of a six-year-old African-American schoolgirl being escorted by four U.S. marshals to her first day at an all-white school in New Orleans. In 1965, Rockwell illustrated the murder of civil rights workers in Philadelphia, Mississippi, and in 1967, he chose children, once again, to illustrate desegregation, this time in our suburbs.
Norman Rockwell in the 1960s traces Rockwell's artistic transformation from a painter of people and life's small but extraordinary moments, to a powerful visual commentator who united America around such core national values as democracy, freedom, and justice.
Image Left: The Final Impossibility, 1969 "detail". Tearsheet, story illustration for LOOK, December 30, 1969. Norman Rockwell Museum Collections @Norman Rockwell Family Agency. All rights reserved.
New Kids in the Neighborhood 1967. Oil on canvas. Illustration for Look, May 16, 1967. Norman Rockwell Museum Collections. ©Norman Rockwell Family Agency. All rights reserved.
Complete Facts
Contents:
approx. 20 original tear sheets and or prints plus introductory and biographical panels and three photograph panels
Security:
Moderate, security hardware required
Environment:
Light level—10-foot candles, humidity—50% plus or minus 5%, no direct sunlight
Shipping & Insurance:
Borrowers will be responsible for shipping costs and insuring the exhibition while it is in their care both during transportation and while on display.
Speaker:
Upon request
Photos of the installed galleries for Norman Rockwell in the 1960s
Venues Hosting This Exhibition
This exhibition is available for hosting