Norman Rockwell: Behind the Camera
An exhibition organized by Norman Rockwell Museum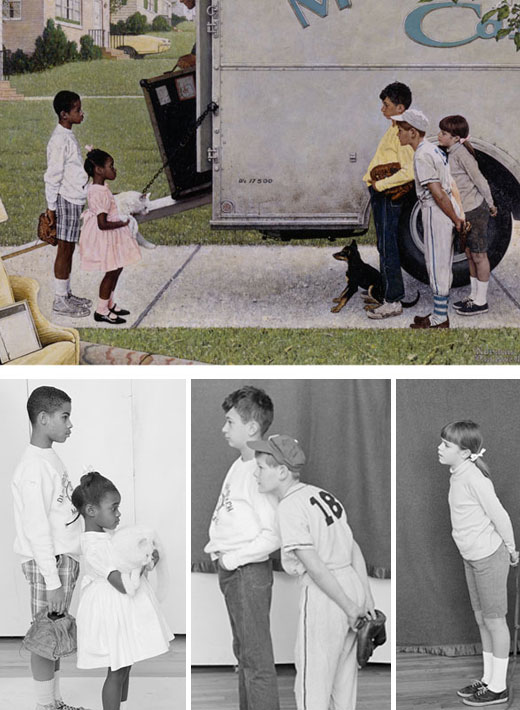 About the Exhibition
Photography has been a benevolent tool for artists from Thomas Eakins and Edgar Degas to David Hockney. And to illustrators, always on the lookout for better ways to meet deadlines, the camera has long been a natural ally. But the thousands of photographs Norman Rockwell created as studies for his iconic images are a case apart. A natural storyteller, Rockwell envisioned his narrative scenarios down to the smallest detail. Yet at the easel he was an absolute literalist who rarely painted directly from his imagination.
Instead, he first brought his ideas to life in studio sessions, staging photographs that are fully realized works of art in their own right. Selecting props and locations, choosing and directing his models, he carefully orchestrated each element of his design for the camera before beginning to paint. Meticulously composed and richly detailed, Norman Rockwell's study photographs mirror his masterworks in a tangible parallel universe.
Rockwell staged his photographs much as a film director works with a cinematographer, instructing his cameramen when to shoot and never personally firing the shutter. He created an abundance of photographs for each new subject, sometimes capturing complete compositions and other times jigsawing together separate pictures of individual elements. And never above getting into the act, many images catch the artist himself in the frame, exuberantly performing alongside his amateur models.
Image Left: New Kids in the Neighborhood, 1967. Story illustration for Look, May 16, 1967. Norman Rockwell Museum Collections. ©Norman Rockwell Family Agency. All rights reserved. With reference photos.
The Runaway, Norman Rockwell Saturday Evening Post cover September 20, 1958
Media
There is currently no media for this exhibition at this time.
Complete Facts
Contents:
A selection of tear sheets, prints and signed print;
Security:
Moderate, all works must be within sight of a trained security officer/staff member at all times during public hours;
Environment:
Light level -18 to 22 foot candles for paintings and 5 to 7 foot candles for works on paper and other light restricted objects. Humidity -50% plus or minus 5% and temperature 68 – 72 degrees, no direct sunlight and no direct contact with light fixtures or heating, air conditioning, ventilation, or electrical outlets;
Shipping & Insurance:
roundtrip expenses and while in exhibitor's care
Photos of the installed galleries for Norman Rockwell: Behind the Camera
Venues Hosting This Exhibition
This exhibition is available for hosting