Norman Rockwell's Tom Sawyer and Huckleberry Finn
An exhibition organized by Norman Rockwell Museum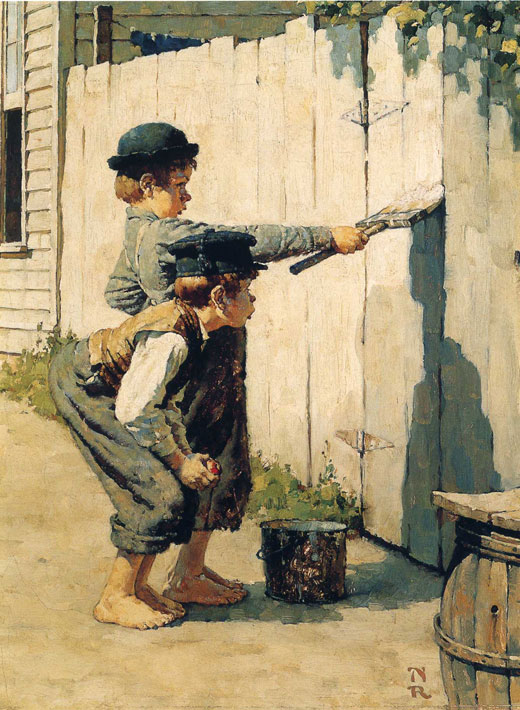 About the Exhibition
These were classics. I read through the books, making notes of which scenes would make good pictures. Of course certain scenes—for instance, Tom whitewashing his Aunt Polly's fence—were required.
—Norman Rockwell
In 1935, George Macy, the publisher of the Heritage Press and Limited Editions Club books, invited Norman Rockwell to illustrate Mark Twain's The Adventures of Tom Sawyer and The Adventures of Huckleberry Finn. Rockwell visited Hannibal, Missouri, Twain's boyhood town, to find authentic details to include in his work. Twain's vivid descriptions of character, setting and mood were an inspiration to the illustrator, who considered each of the writer's scenes to be "complete and perfect to the last detail."
The sixteen signed limited edition prints from Rockwell's own collection comprise this exhibition featuring the artist's timeless images for these American classics.
Image Left: Tom Sawyer Whitewashing the Fence, 1936. Illustration for The Adventures of Tom Sawyer. Norman Rockwell Museum Digital Collections. Easton Press, ©MBI , Inc.
Huck Teaching Tom and Joe to Smoke, 1936 "detail"
Collotype Easton Press, ©MBI, INC. Norman Rockwell Museum Collections

Media
There is currently no media for this exhibition at this time.
Complete Facts
Contents:
16 signed prints, H: 271/2″ x W: 211/2″ x D: 1″, introductory, biographical and photo panels included
Security:
Moderate, security hardware required
Environment:
Light level-10-foot candles, humidity-50% plus or minus 5%, temperature 68º-72º, no direct sunlight, heated/air conditioned facility
Venues Hosting This Exhibition
2017 – Forward, available for travel