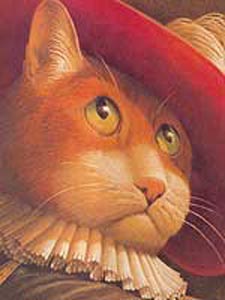 With narrative illustration . . . each picture is a link in a chain, and they all exist in counterpoint with the text. And although you want each picture to have impact, just like a jacket, book illustration can be much more subtle. It can be pondered and savored over a period of time.

—Fred Marcellino
Fred Marcellino was a gifted visual communicator whose memorable images have been seen and enjoyed by millions. His illustrations and designs have graced the covers and pages of hundreds of noteworthy literary works for children and adults, enhancing and expanding upon the words and ideas of many prominent authors.
This exhibition features award-winning works of original art for best-selling novels and children's books including A Handmaid's Tale, The Unbearable Lightness of Being, The Bonfire of the Vanities, The Accidental Tourist, and The White Hotel, as well as A Rat's Tale, Puss in Boots, The Steadfast Tin Soldier, The Wainscott Weasel and I, Crocodile among others.
Fee: $10,000 for a time period of eight to twelve weeks plus shipping and insurance
Contents: 100 framed artworks requiring 275 running feet approximately, introductory, biographical and section panels, object/extended identification labels, 2 calligraphy journals, 26 original studies and reference materials, and 4 mounted photo panels featuring the artist.
Security: High, all works must be within sight of a trained security officer/staff member at all times during public hours.
Environment: Light level -18 to 22 footcandles for paintings and 5 to 7 footcandles for works on paper and other light restricted objects. Humidity -50% plus or minus 5% and temperature 68 – 72 degrees, no direct sunlight and no direct contact with light fixtures or heating, air conditioning, ventilation, or electrical outlets.