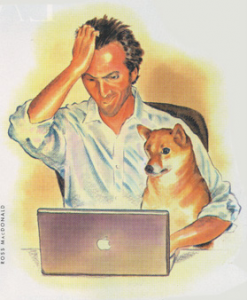 Saturday, May 29, 5:30 p.m. with reception to follow
$10, $7 Museum members or free with regular Museum admission.
Join Vanity Fair author and contributing editor David Kamp for a discussion on the renewed interest in Norman Rockwell and his work. Kamp's thought-provoking article "Norman Rockwell's American Dream" appeared in the magazine's November 2009 issue, and served as a companion piece to "Rethinking the American Dream," an essay which traced the concept of our uniquely American pursuit of happiness from its roots in the United States Constitution—through the first coining of the expression during the great depression, later expressed in Norman Rockwell's Four Freedoms as our rights to the basic tenets of American democracy—to our recent years of overabundant pursuit of material possessions as the pathway to happiness.
Kamp writes, "Yet Rockwell was no more a man of simple vision than he was the house artist of the right wing. While his approach was calculatedly upbeat, it was never shallow or jingoistic, and his work, taken as a whole, is a remarkably thoughtful and multifaceted engagement with the question "What does it mean to be an American?" Kamp explores Ron Schick's recent book Norman Rockwell: Behind the Camera, which researched Rockwell's reference photography from the Museum's digital archive, and concludes: "What these scenes show us are Americans at their best—the better versions of our usual selves that, while only ever fleetingly realized, are nonetheless real."