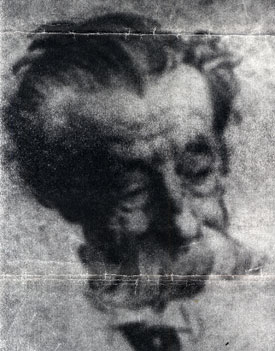 In Norman Rockwell's painting Organist Waiting for Cue, model James K. Van Brunt has a distinctive, magnificent mustache. Norman Rockwell stated "(it) bushed out from just beneath his nose in a plump arc, hiding his upper lip….the whole, fat, gray, glorious expanse was neatly brushed and trimmed."
Unfortunately, Van Brunt's mustache made him too recognizable, so the Post suggested that Rockwell stop using him. Mr. Van Brunt agreed to shave his mustache for ten dollars, but ironically his "lower lip stuck out beyond his upper lip by about an inch and was just as identifying as the mustache." Rockwell found clever ways to hide Van Brunt's lower face so that he could continue to use him.
See James K. Van Brunt, with and without his glorious mustache, in other Saturday Evening Post covers in the slideshow below.
Norman Rockwell (1894-1978), Organist Waiting for Cue, 1928. Oil on canvas, 31" x 26". Cover illustration for The Saturday Evening Post, June 23, 1928. Private Collection. Norman Rockwell Museum Digital Collections. ©SEPS: Curtis Publishing, Indianapolis, IN.
Artwork from Norman Rockwell Museum Digital Collections. ©SEPS:Curtis Publishing, Indianapolis, IN
Norman Rockwell painted two covers for The Saturday Evening Post that refer to weddings: Organist Waiting for Cue, painted in 1928, and Marriage License, the 1955 picture of a young couple in a town clerk's office. For the first, Rockwell avoided the usual idealizations of weddings, instead portraying an organist poised to play the wedding march. Genre painting captures a slice of life—preferably, the decisive moment. For Rockwell, the decisive moment was not the sharing of rings or the kiss, but the silent, anticipatory moment preceding the first four notes of Here Comes the Bride. The organist's raised hands suspend this moment in time.
Rockwell was probably more comfortable avoiding the joyous wedding scenario; his own fourteen-year marriage to his first wife, Irene O'Connor, was coming to an end. The marriage, which had never been a loving one, was entered into in haste. In early 1916, right after receiving his first commission from the Post, Rockwell proposed to Irene, a twenty-five-year-old school teacher who lived in the same New Rochelle boarding house as Rockwell's family. He later attributed this rush to wed—they barely knew each other—to his elation at being signed by the Post.
The 1955 Post cover, picturing a couple signing their marriage license, recalls Rockwell's joy on the day in 1930 when he and Mary Barstow acquired their own marriage license. After meeting on a blind date on March 27, 1930, their April 17, 1930 wedding was even more hurried than Rockwell's first, yet proved to be the start of a loving and lasting marriage.